Zingarevich wields sudden, brutal ax on McDermott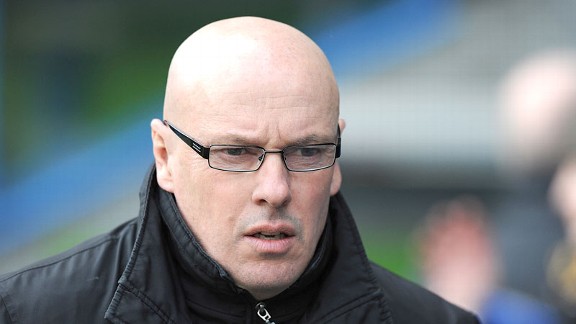 Steve Bardens/Getty ImagesWhile Brian McDermott's sacking by Reading is not a surprise, the timing comes as a bit of a shock.
Loyal Royals were either stunned or delighted -- or both -- at the sudden news that Brian McDermott left the club Monday, presumably being asked to leave as a result of the poor results which have consolidated Reading's place in the Premier League relegation zone.

Paradoxically, this comes just 33 days McDermott won Premier League Manager of the Month for a run of great results in January. That's one record I doubt anyone else will ever beat -- or want to!

-- Reading sack McDermott after three years

Personally, I'm astounded -- although it was clear that McDermott has lost support from many of the fans, for bizarre substitutions, a tendency to stick to certain favoured players and particularly for a reluctance to adapt his tactics -- but he still had the backing of many Loyal Royals.

If nothing else, there was a feeling that changing the manager now would be counter-productive. After crippling defeats at home to Wigan and Aston Villa over recent weeks, Reading's survival campaign is surely holed below the waterline already, and many supporters have clung to the hope that at this stage the best hope of staying up depend upon the man who knows the players best and has worked with them for so long.

In any case, nothing is surely to be gained from a change this far into the season, when the pool of potential replacements is quite so small. If a change is needed, surely the sensible timing would be for it to happen in the close season?

The biggest surprise is the way this was done, the suddenness and the timing. It is something very unlike the Reading FC way of working -- the so-called "Reading Way" of doing things in a more measured and ethical way than most other clubs, and in which many at the club have taken pride.

In the past, Reading FC has always been very loyal to managers and reluctant to make such sudden changes -- and I know that there's been a stated desire among key people within the club never to dispense with a manager until they have decided a successor. This was the way McDermott was appointed when Brendan Rodgers suddenly departed in December 2009.

But it's never been up to fans who manages their club, and under the new ownership of Reading it's no longer the decision of those key people who previously held the reins of power, either.

I think the wording of the statement on the club website is very telling. It includes the sentence, "However, in our current situation, owner Anton Zingarevich felt that a change was necessary."

To me, that says bleakly that the "old regime" disapprove of this move, and would have shown McDermott more loyalty -- not to mention common decency -- which I think a man who has achieved so much for the football club with such meagre resources deserves.

So now we enter a period of uncertainty, with numerous names being touted, and the Twitter hashtag #readingfc scrolls off the screen too quickly to read. I hope -- although I'm not raising my hopes too high -- that Zingarevich knows what he's doing, because the last club to do something like this was Wolverhampton, and their gamble went so spectacularly wrong that just 12 months later they are struggling to avoid relegation into the third tier of English football.