Vultures circle as the fat lady starts to sing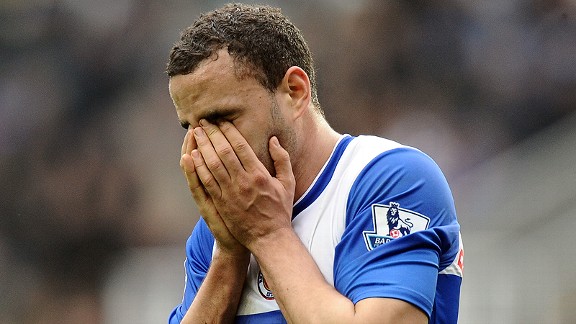 Tony Marshall/Getty ImagesHal Robson-Kanu's expression pretty much sums up the feelings of Reading supporters following Saturday's 1-2 home loss to Aston Villa.
Any Loyal Royals hoping that manager Brian McDermott would pull something different out of the bag were sadly disappointed when the teams were announced. McDermott once again went for a tried-and-failed 4-4-2 formation, with the diminutive Adam Le Fondre and Noel Hunt up front. And once again the formation failed to deliver as his team lost 2-1 to visitors Aston Villa in this crucial relegation match.

- Match report: Reading 1-2 Aston Villa

And this defeat drives a stake deep into the heart of Reading's hopes of avoiding relegation. Everyone -- but apparently not McDermott -- knew how important this match was, and losing it is a hammer blow to Reading. For a period in the second half a red kite circled low over the Madejski Stadium -- and while it may not actually have been a vulture awaiting the death throes of Reading's Premier League survival hopes, it certainly looked and felt like one.

Reading did open more brightly than in many recent games with lots of passion and effort. And in this opening period both teams fashioned a couple of good chances -- Villa's Brad Guzon beat away an early Le Fondre header and Reading's stand-in keeper Stuart Taylor needed to pull off a couple of smart saves to keep the scores level. But while Reading had some good possession in the first 30 minutes, they couldn't do much with it. Too often Hunt and Le Fondre were alone in the wide channels, leaving no target in the box. Hunt, in particular, often found himself playing almost as a winger, and there was the familiar story of Reading's midfielders failing to fully support the strikers, leaving them isolated up front.

But as the game entered its middle third came a 15 minute period which decided the match. After 31 minutes, a left wing cross from Royals captain Jobi McAnuff took two deflections, and, spinning wildly, cannoned into the Villa net off Villa defender Nathan Baker. The stadium announcer called this as a goal for Reading midfielder Hope Akpan, but he wasn't fooling anyone -- this was as clear an own goal as you'll ever see.

Celebrations lasted under a minute though, as Villa attacked straight from the kickoff and scored almost immediately; the Royals' defence still seemed to be switched off as Andreas Weimann slipped the ball across to Christian Benteke who slammed it in from close range.

Everything had swung round in the space of a minute, and now the visitors were in the ascendency. They soon realised what every team visiting here comes to understand: If you pass and move quickly, playing the ball around neatly but simply, then Reading will have no answer.

And the killer goal came with just one second left on the clock for normal time in the first half. After a sustained period of Villa passing with Reading chasing shadows, McAnuff was sucked out of position, the ball was played behind Ian Harte and crossed into the Reading box. The initial shot hit the post, but the rebound was smashed into the roof of the Reading net by Gabriel Agbonlahor. Just as they had in the equally important Wigan game two weeks ago, Reading capitulated just before the halftime whistle.

Although Villa started the second half keeping possession with slick passing and moving, as the half went on Reading gained more and more possession as they threw everything they had at Villa. But Villa were never out of the game with the strength and pace of Benteke and Agbonlahor up front, always a threat on the break.

But although Reading huffed and puffed a lot, the truth is they never really looked like scoring. Far too often there was a lack of urgency and a reluctance to shoot. Their only significant chances to score came after 55 minutes when a Hunt goal was disallowed for offside, and ten minutes later when Robson-Kanu found himself free to turn in the box but missed the target from eight yards. The performance was perhaps best summed up by substitute Nick Blackman, who found himself in a good position in the box but somehow managed to trip himself up and let the ball run harmlessly out of play.

So, when many Loyal Royals were hoping for something different and imaginative from McDermott, he again served up a formation which has proved to be too simplistic and unsophisticated for the Premier League. Although McDermott is limited by the suspension of Pavel Pograbnyak, there certainly were other possible options available.

But he didn't go for anything different and so this was another crucial match which passed Reading by. Even the Loyalest of Royals can now see the relegation writing clearly on the wall -- and the most frequent question among them seems to be changing from "Can we stay up?" to "Can we avoid finishing bottom?"