Loyal Royals sad at 2 severed links with past
This has been a sad few days for Loyal Royals. Quite aside from their team's parlous league position, the departures of two much-loved and long-serving players have brought a lump to the throat and a realisation the club is slowly but surely changing.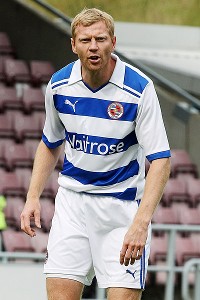 Pete Norton/Getty ImagesBrynjar Gunnarsson leaves Reading as one of the Royals' most beloved playes.
The first of the player departures is the news that long-serving midfielder Brynjar Gunnarsson has left Reading to return to his native Iceland and take up the role of player-coach at Reykjavik FC.

Although Bryn only made 108 starts for Reading in his eight seasons at the Madejski, he was one of the most dedicated and dependable players I've ever seen -- the absolute epitome of the much-talked about "model professional." Always hard-working, he just buckled down and got on with his job in midfield without undue fuss or flashiness -- he just did it. And that whole-hearted commitment to the cause is the sort of thing that supporters appreciate and made Bryn one of Reading's most-loved players.

But another factor which makes Bryn's departure especially poignant is that he's the last player of the "Record-Breaking Royals" to leave – the last from the Reading team that stormed to the 2006 Championship title with a record 106 points. Although trainees at the time are still with the club, and Nicky Shorey has left and since returned, Bryn is the last continuous link with that great team. And his contribution to that unforgettable season was considerable, with 30 League appearances and four goals, including both goals in a crucial 2-1 away defeat of promotion rivals Sheffield United as Reading made an autumn surge to the top of the table.

Since that season Bryn's appearances gradually became fewer, and unsurprisingly, at 37, he's yet to appear this season. So his departure is no great surprise, although many harboured hopes that there would be an opportunity for Bryn to stay at The Madejski in a coaching or similar mentoring role.

But it's not to be, and his departure is a poignant moment for Loyal Royals. We'll all have our own special memories of him. Mine, both from FA Cup matches, are as clear to me as if they happened yesterday. The first came in February 2007, as Reading fought back at home against Manchester United from 3-0 down after six minutes.

Late on, having taken the game to the visitors and scored twice, Royals needed just one goal to level the score when Bryn unleashed a pile-driver from just inside the box which smashed against the Manchester United crossbar. So close, and I'm sure that bar didn't stop vibrating for weeks.

The second magical Bryn moment came in January 2010, at Anfield in a third-round FA Cup replay. Although playing fullback, Bryn executed am absolutely sublime Cruyff-turn to nutmeg the Liverpool defender and allow him to place a perfect cross straight onto Shane Long's head for a dramatic winner ten minutes into extra-time. That exquisite piece of skill, if nothing else, will always be remembered as a fitting memory to Bryn and his time at Reading.

The second departure is of Jay Tabb, a similar type of player – undramatic but always committed and whole-hearted, giving everything possible and so another fans' favourite. Told in January he would be allowed to leave if he found a suitable offer, Jay has left for Ipswich Town on loan. Again, not an unexpected move, and we all knew Jay wouldn't figure in the first team again.

Reading's loss is very much Ipswich's gain, and I'm sure Jay will do well there, as his drive, commitment and fighting qualities are perfectly suited for the scrap that is the end of the season near the foot of the Championship table.

We all know the cliché that there's no room for sentiment in football, and of course players can't be kept on for ever - in Tabb's case especially, it's only fair that he's allowed to further his career elsewhere once it's been decided that he has no future at Reading. But the simultaneous departure of these two favourites in the same week the kind of honest, whole-hearted and committed players that supporters instantly take to their hearts - can't help but move Loyal Royals as they think back to what those players brought the club.