McDermott's Villa dilemma
Before Saturday's crunch relegation tussle with Aston Villa at The Madejski Stadium, Reading manager Brian McDermott finds circumstances have left him on the horns of a team-selection and formation-choice dilemma.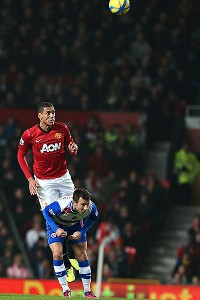 Matthew Peters/Getty ImagesAdam Le Fondre, bottom, is a great finisher, but has problems with physical players such as Manchester United's Chris Smalling.
Not only does he have to decide whether to stick with 4-4-2 or to revert to 4-5-1 -- or maybe even change to a formation as yet untried this season -- but he also has to decide which individual players to select to make this happen.

The question of which formation to go for is the biggest one. Saturday's 3-1 defeat to Everton at Goodison Park has surely answered once and for all the ineffectiveness of 4-4-2 - strikers Adam Le Fondre and Noel Hunt were anonymous against the Everton defence, while the four in Reading's midfield struggled to win and retain the ball all afternoon.

Similarly, the first half of Reading's season was built on the basis of 4-4-2, which McDermott doggedly persisted with throughout this period despite poor results and on-going criticism.

This contrasts with Reading's period of playing 4-5-1 over the past few months, with this formation keeping the Royals in the match for the first hour, and creating the platform from which the introduction of Le Fondre, coupled with a change to 4-4-2, inspired a string of dramatic comebacks.

So, it ought to be a no-brainer that McDermott would go with 4-5-1. Sadly, things aren't quite as simple as that, for he only has one player in his squad who is suited to the critical "lone-striker role -- big Russian Pavel Pograbnyak. But Pograbnyak is suspended for the next two matches after being sent off for kicking out at Wigan striker Maynor Figueroa.

So McDermott finds himself needing to devise a solution to what seems an intractable paradox - he knows the only formation that has seemed to work for his team this season, but he doesn't have the personnel to play it.

At the same time, McDermott has in Le Fondre one of the Premier League's most in-form strikers, who had such a prolific January that he won the League's Player of the Month award. So playing Le Fondre as the one in the 4-5-1 might seem to be an obvious answer.

But, sadly, for all his qualities as a goalscorer, Le Fondre (5 foot 9) just doesn't seem to be suited to such a position. He lacks the stature and presence to allow him to win the ball under pressure and to hold it up while midfielders join the attack, or the pace and guile to beat defenders and create chances for himself.

He is certainly a deadly finisher when he gets a chance, but to be at his most effective he needs another striker alongside him to win the ball and to help create those chances.

So the dice seem to be loaded against McDermott, and unless he decides to persevere with the unsuccessful and discredited 4-4-2 utilising Le Fondre and Noel Hunt he needs to come up with something a bit different.

What that might be in anyone's guess, as for most of this season he has seemed reluctant to tinker with formations or to try something different, but perhaps this far into the season, with his team in such a perilous position, now is the time to gamble a bit.

I'd personally like to see him try a 4-4-1-1 with Hal Robson-Kanu slotting in behind Le Fondre. While this might not be as effective as a 4-4-2 in creating chances, or as a 4-5-1 in keeping the midfield tight, I think it's the best compromise available under the circumstances. It would allow Robson-Kanu to reinforce the midfield four while at the same time not leaving Le Fondre isolated up front.

An alternative might be the recall of Danny Guthrie to perform the same role, although Robson-Kanu does have experience in that position for the reserves.

This would bring Reading the massive advantage of giving Aston Villa something to think about that would be slightly less predictable than McDermott's usual formations -- because if Reading are to have any hope of Premier League survival a victory over Villa is essential, and unless they can pose them far more questions on Saturday than they did Wigan and Everton that looks an unlikely outcome.