Reading chewed up by Toffees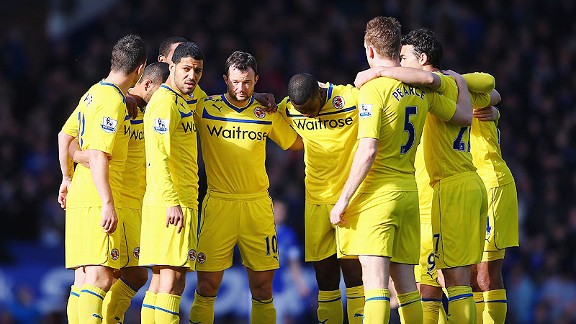 Clive Mason/Getty ImagesDespite their best efforts, Reading were unable to get a result at Goodison Park against Everton.
In one of the more predictable matches of this season's Premier League, Reading were comfortably beaten by Everton at Goodison Park. For experienced watchers of this Reading team, the writing was on the wall almost from the moment the teams were announced, and Everton's 3-1 victory was about as unexpected as the tide coming in or the sun going down.

- O'Farrell: Wide men make the difference at Goodison
- McDermott: We battled well

Before the match there were various questions hanging over the potential Reading line-up, and particularly the striking positions. With Pavel Pogrebnyak suspended for his stupid sending-off against Wigan last week, the main subject of debate was whether manager Brian McDermott would persevere with a starting formation of 4-5-1. Although this has been successful in keeping the game tight over recent weeks, it also depends on Pogrebnyak. So McDermott had the option of reverting to a 4-4-2, trying to fit another striker into the one-up-front role, or trying something different.

In the end, he went for the first option, pairing Adam Le Fondre and Noel Hunt up front. However, both these players are well under six foot -- despite Hunt's prodigious leap -- and have conspicuously failed to set the world on fire in their previous starts. To me, this smacks of McDermott lacking either the imagination or the courage to try something different, such as recalling Hal Robson-Kanu in a 4-4-1-1. Instead he's opted to go back to Plan A long after it's been roundly discredited.

With just four in midfield, I had precious little belief in Reading's chances of competing for possession with their Everton opponents, including the ever-impressive Marouane Fellaini, despite pre-match speculation that he was injured. But the confidence of Loyal Royals dropped further still when it became clear that goalkeeper Adam Federici, who has been in fine form over recent weeks, was out with an injured ankle. So as well as an under-manned midfield and an under-height attack, Reading started with an understudy goalkeeper, Stuart Taylor.

And although Reading put a lot of effort in and had some worthwhile possession as a result, they managed to create few meaningful chances. For much of the game Hunt and Le Fondre were outnumbered and outmanned by the Everton defence and their best chances came from set pieces. The best of these, after 19 minutes, was wasted when Le Fondre had a clear shot on goal from 10 yards after an Ian Harte corner. But he slammed a piledriver against the woodwork instead of into the back of the net.

At the other end, Everton had good possession themselves and always looked more likely to score. In particular, they had frequent overlaps on either side of a very narrow Reading defence, and it was from one of these that they took the lead after 41 minutes. Seamus Coleman comprehensively beat Harte on Reading's left and put a perfect cross onto Fellaini's head for the first goal. A voice from beside me in the crowd said "too easy..." and that's a perfect summary.

The second half followed the same pattern as the first, with plenty of effort from Reading but minimal quality. Again, there were a fair few half-chances but none converted, while Everton stretched their lead to two with a fine long-distance goal from Stephen Pienaar after 57 minutes when he was gifted the ball by Adrian Mariappa who went for a clearance only to find himself out of position.

Reading should have had a penalty a few minutes later when a Jobi McAnuff cross was clearly handled by Coleman on the referee's blind side, but that was against the run of play and Everton made sure of the win after 67 minutes by the simple expedient of passing the ball through the Reading defence for Kevin Mirallas to slot home.

Reading had time to pull one back with six minutes to go from a header from Hal Robson-Kanu, on as a substitute for Jimmy Kebe. Everton might have had a fourth from numerous chances, not least in the 87th minute when a near-certain goal was prevented by a flying goal line clearance from Harte.

So more misery for Loyal Royals as their team sinks deeper into relegation trouble and the optimism of January now seems a distant memory. This performance wasn't bad and no one player should be singled out for blame. The players simply aren't good enough, and they were asked to play in a formation which did them no favours against a much stronger Everton team.

With no apparent game plan except "maximum effort" and too often players either caught in possession, losing it cheaply or hoofing the ball forward aimlessly, things look bleak. Players seem to be uncomfortable on the ball and unwilling to take responsibility with it. And with only 10 games left, there are precious few matches left for McDermott and his team to "move on" from and "learn from", to misquote one of his favourite post-match platitudes.