Royals lack mentality to handle relegation pressure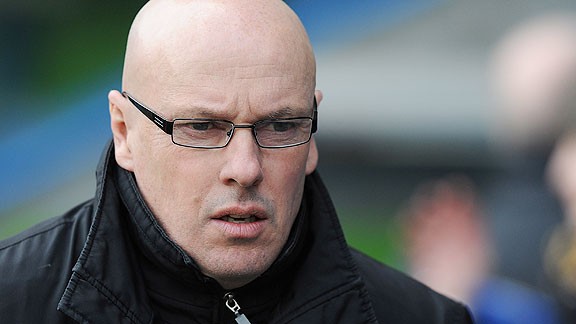 Steve Bardens/Getty ImagesBrian McDermott's 'one game at a time' mentality does not appear to be helping Reading during their relegation struggle.
After Reading's woeful surrender to Wigan in their crucial relegation six-pointer on Saturday, I wonder just how well equipped they are, psychologically, for the next 11 games and the tooth-and-nail fight for Premier League survival. And the more I think about it, the more convinced I am that the team's mindset, and the whole philosophy of manager Brian McDermott, leaves them very poorly equipped for such a struggle.

This philosophy, which dates back to the days of Steve Coppell, is to treat each match as it comes and to regard each one as just another game. Therefore, each match is as important -- or unimportant -- as the previous or the next and each brings the same level of expectation, whether it's against Crawley Town or Manchester United. In this way any peaks of pressure are kept off the players and they can prepare for every single match in the same way. A phrase McDermott has used a lot of late, "we move on", emphasises this -- a bad performance won't be dwelt upon. Instead, the team will put it behind them and focus immediately on the next match.

This approach of "no pressure, just another game" has led to some important victories over the past couple of years. While in the Championship, Reading won FA Cup victories at both Everton and Liverpool and it was also the perfect mindset for the late surge to win the Championship title last season. Very few pundits tipped anyone other than West Ham or Southampton to get automatic promotion, but a relaxed Reading, under no weight of expectations and approaching each game in the same way, pulled off some incredible results and stormed to the Championship title.

I don't doubt that the "just another game" mindset was critical to achieving this, but I believe that this psychology brings with it a fundamental flaw that puts Reading at a massive disadvantage. If your whole approach is based upon protecting players from pressure and treating every match as "just another game", it leaves those players without a coping strategy when a match does have great importance and is crucial to the team's future.

And in a Premier League relegation fight any pretence that each game is "just another one" or that there's no pressure or weight of expectation on the players is not credible. It's surely obvious to all that every remaining match is important -- with some absolutely critical. To try and maintain any illusion that they're not, under Premier League levels of attention, is a ludicrous deceit.

So sadly we've seen Reading repeatedly buckle under pressure -- when a match does matter they seem mentally ill-equipped to rise to that challenge. At best, they underperform, and at worst, they freeze like rabbits in headlights. Five seasons ago in their last (unsuccessful) Premier League relegation struggle, they suffered crippling home defeats to Bolton and Fulham in very similar, "must-win, high-pressure" circumstances to Saturday's crushing loss to Wigan. But that same season, under no pressure and no expectation, they beat a full-strength Liverpool team.

Another perfect example of Reading's inability to cope with pressure comes in the Championship play-offs two years ago. In the semifinal second leg away at Cardiff after having been written off by most and with key players out injured, they were superb -- thrashing the Red Dragons 3-0 in what I believe was their best performance of the past five years. But two weeks later at Wembley in the final versus Swansea, they were under intense media scrutiny and worldwide attention. As a result, their first half performance was abject and unrecognisable -- they clearly weren't mentally able to cope with the pressure of the game. But only once they had gone three goals down in 40 minutes, and so knew the game was lost, did that pressure disappear and then they started performing, coming within a post's width of levelling the score line.

This inability to perform under pressure is a recurring theme: The two highest-pressure matches of last season were away at West Ham and Southampton and both followed similar patterns. For much of the first halves of both games the home team outplayed a Reading team that looked shell-shocked at times, and it was only once the game looked to be irretrievably slipping away from the visitors that they again realised the pressure was off, relaxed and went on to win the game. And this same psychology has much to do with Reading's incredible comebacks this season -- only once the game seems to be have been virtually lost do they seem to be able to lift their mental shackles away and play the way they can.

And so I really fear that Saturday's defeat has revealed finally the fact that something about McDermott's management strategy and team preparation leaves his players mentally unable to cope with the pressure of a match that really does matter. And with only 11 Premier League matches remaining -- all of them high-pressure games which really do matter -- McDermott needs to find a way to overcome this Achilles's heel if his team are to have any hope of Premier League survival.