Optimism evaporates as Royals surrender to Wigan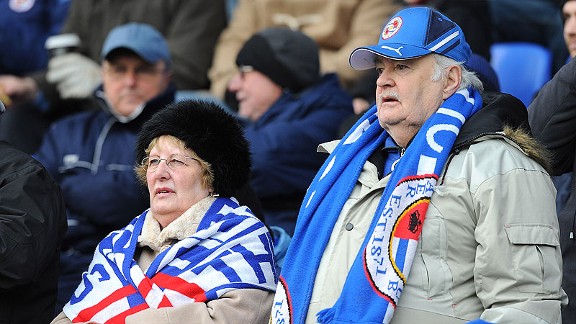 Steve Bardens/Getty ImagesReading supporters were left dumbfounded by their team's abysmal home performance against Wigan.
The optimism of recent weeks among Loyal Royals now seems a distant memory as Reading responded to a must-win match against relegation rivals Wigan by producing a performance as bad as many can remember. Desire, drive, coordination and teamwork were almost entirely absent, as Royals failed to do many of the basics of the game well enough, and a calamitous eleven minute period around the halftime break allowed Wigan to win this match 3-0.

- Brown: Latics rise at the Madjeski

The fear is that this eleven minute period will define Reading's season, since today makes anyone who believed that Reading were on the way up and away from relegation seem a delusional fantasist. The brutal truth is that this was a perfect chance for Reading to make a statement to the teams around them competing for survival -- and they irrevocably blew that chance.

Eyebrows were raised before the game as Brian McDermott dropped fan favourite Alex Pearce and replaced him with Sean Morrison at centre-back -- hindsight makes this look a highly questionable choice, as did most of McDermott's tactics and substitutions today. But that's the lot of a manager -- win and your decisions are praised; lose, especially as badly as today, and you're wide open to criticism.

For the first 43 minutes, though, the game was fairly even. Both teams had possession and periods of ascendency without either particularly looking like they were going to score. Wigan's Franco Di Santo forced a fine save out of Adam Federici after nine minutes, and Jimmy Kebe, who had some promising first half runs, shot just wide of the Wigan post midway through the first half. But apart from that, there were few goal-scoring chances.

In this period, Reading's lone striker, Pavel Pogrebnyak, was frequently joined up front by midfielders Jem Karacan and Hope Akpan, half-heartedly trying to close down the Wigan back three -- but too often they weren't tight or committed enough and Wigan's movement and passing repeatedly suckered them. Time and time again Wigan just played the ball in triangles around them, a basic tactic Reading clearly didn't have an answer to -- and this was painful watching. Meanwhile, in midfield, Reading showed a sloppiness we've not seen since the first half of the season, with numerous passes going astray and possession cheaply surrendered again and again.

And then we came to the eleven minutes of utter calamity that may cost Reading so much. A Wigan attack -- predictably in triangles down their right -- led to the ball being played into the Reading box. But Federici and his defenders could only do an impression of a group with their feet nailed to the ground, leaving the ball to each other and instead watching Arouna Kone head home, completely unchallenged.

Just a minute after the restart, already into the one minute of time added-on, Ian Harte gifted Wigan a second goal. In his own half with four Reading players on the edge of the Wigan box, he lingered on the ball, faffed around for a while and eventually passed it sideways to Sean Morrison who was already under pressure. Morrison lost the ball and Kone was free to run through and score a sickening second goal. Others are blaming Morrison for this lapse but I place the blame fairly and squarely on Harte's shoulders -- he had a perfect chance to play the ball forward to the attackers, but with time clearly running down, he chose to ignore that chance and pass the responsibility to a far less experienced centre-back. A ludicrous decision from a player so experienced, in my book.

So two goals down at halftime and McDermott elected to switch to a 4-4-2, taking off Akpan and bringing on Adam Le Fondre. But almost immediately the chances of a comeback from this situation got even more remote as Wigan ran at the static Reading defence, bypassed them completely with a couple of simple triangles, and Maynor Figueroa slid the ball past Federici -- again unchallenged.

The game was now over as a contest, and after 51 minutes the crowd started to turn, with boos ringing around the stadium as Wigan spurned a glorious chance to score a fourth. Reading were being ripped to shreds, and just to make things even worse, after 55 minutes they were down to ten men.

Pogrebnyak was bypassed in the centre-circle by some more neat Wigan passing and kicked out at Figueroa's ankle in clear frustration. Phil Dowd showed the inevitable red card and Reading fans had another target for booing, but let no one be under an illusion that Dowd's decision-making cost Reading this game -- Reading's players cost Reading this game. Why anyone was surprised at the red card is beyond me -- a clear, deliberate kick right under the referee's nose will always have the same result.

As the clock ticked down with Wigan completely in control, Kebe, Reading's most creative player and the one most likely to fashion a chance, was surprisingly replaced by Noel Hunt, but Hunt and Le Fondre were outgunned and outnumbered with minimal support from midfield, so nothing was created.

Wigan are a competent team and pass well, but are still in real danger of relegation from the Premier League. Yes, they played well today but Reading made them look like Barcelona in this game. Reading fans streamed out of the ground throughout the second half, so there were only a few thousand left at the bitter end. I've never left a game early in 37 years, but if I didn't have to write about this one I may well have done the same and I don't blame anyone for leaving early.

The cold fact today is that Reading were abject, and an insult to their supporters, who are understandably angry as a result of this showing. It was leaderless, passionless and lacking any coherent game plan, the players utterly failed to turn up for what was one of the most crucial and decisive matches of this season.