Nothing to lose for Royals at Old Trafford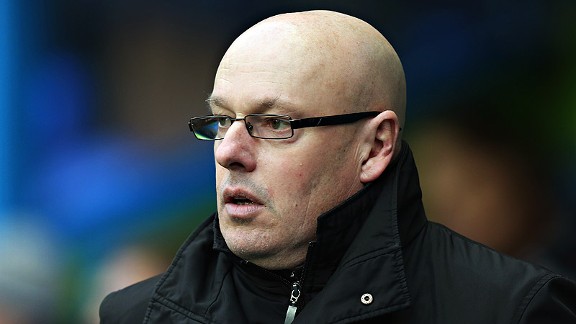 Bryn Lennon/Getty ImagesBrian McDermott may put his 4-5-1 on the shelf and start in a 4-4-2 when his Reading side take on Manchester United on Monday.
A cup run is one of the best things in football, so after seeing their team ease into the fourth round of the FA Cup with straightforward wins over Crawley Town and Sheffield United, Reading supporters were on tenterhooks three weeks ago looking for a favourable draw, preferably against one of the smaller teams through to the fifth round. So they were almost universally disappointed to be drawn away at Old Trafford to play Manchester United, runaway leaders of the Premier League and a team most pundits would expect to steamroll them.

- Preview: Manchester United-Reading

So the Loyal Royals heading north to Manchester tomorrow will be travelling more in hope than in expectation. The relative spending power and squad depth of these two clubs means that Manchester United are odds-on favourites, and in fact Reading are currently being quoted at 12-1 to win. These are quite ludicrous odds for a one-off 90 minute match where anything can happen, but these odds reflect just how much chance the world outside Reading gives the visitors to Old Trafford tomorrow.

And that might be the Royals' best possible hope of success in this match. Because if the whole world believes that Manchester United just need to turn up to walk over Reading, it's quite possible that this mentality of complacency might just have rubbed off on some of the home players tomorrow. Obviously, Sir Alex Ferguson is too wily an old campaigner to not have thought of that possibility, and will be preparing his team accordingly, but it's inevitable that there will be some level of mental relaxation in the home team with their minds maybe more focused on their ongoing Champions League tie with Real Madrid than what should be a routine home cup victory.

Conversely, Brian McDermott will have no such problems getting his players' mindsets right -- Reading will be under no pressure as there are no great expectations of them getting a result, so they can just go out, relax and enjoy the occasion. The combination of the two teams' different psychologies might just set up something quite interesting and unexpected tomorrow.

In the two previous cup ties McDermott has played a 4-4-2 from the start, with a strike force of Adam Le Fondre and Noel Hunt. This was sufficient to dispose of Crawley and Sheffield United, but how effective it might be against Manchester United is quite another question and so McDermott will need to decide whether to persevere with this "cup tactic" or to revert to the "league tactic" which was so successful in January that he earned the title of Barclays Manager of the Month. His usual modus operandi in the Premier League now is to deploy a 4-5-1 for the first hour or so of the match to keep the scoreline tight, then switch to an attacking 4-4-2 for the remainder of the time.

It's this change of formation and emphasis that's been so effective and which has allowed Le Fondre to also be spectacularly successful, but despite that, I expect McDermott to stick with a 4-4-2 for tomorrow's game and to start with Le Fondre also. Although this may not be as effective in league games, I think he'll be happy to stick to his usual cup formation not only to try and take the game to United from the start but also as a reward to Le Fondre, who can't be happy with continually being cast in the role of "super-sub."

There's also a feeling on nothing ventured, nothing gained -- with the cards apparently stacked against his team, McDermott has nothing to lose by sending out a team setup to get in the opposition's faces and try to win from the start. The depth and quality of United means that trying to match them in pure footballing quality is almost doomed to fail, so an all-attack, high-tempo approach may be his best game plan.

Whatever happens, Loyal Royals will be behind their team and will be doing their utmost to support them and see them confound the critics, who are all universally talking of a quarterfinal clash between Manchester United and Chelsea as a virtual inevitability. Reading certainly won't be such a walkover that they'll allow that without a real fight.