ALF, good timing and safety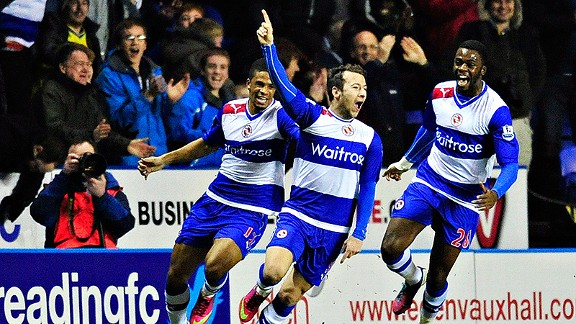 Glyn Kirk/AFP/Getty ImagesReading manager Brian McDermott deserves some credit for the recent goal-scoring surge of Adam Le Fondre, center, who has been unstoppable after entering games late.
As February starts and the end of the season comes closer, Reading sit in a position of potential safety, with a small buffer of two points between them and the relegation zone. That's a world away from their position at Christmas, when they were rock-bottom and written off as relegation certainties by most pundits. They also have the third-best current form in the Premier League – surpassed only by the two Manchester clubs – and optimism is brimming through the club and its supporters.

And one of the main reasons for this optimism and this turnaround in fortunes is the scoring of Adam Le Fondre – or ALF, as he is popularly known. With five goals in Reading's last four Premier League matches, as well as two FA Cup goals, Le Fondre is on fire. Those league goals, all scored late on after coming off the bench, have helped turn deficits into victories against West Bromwich Albion and Newcastle, as well as salvaging a point from Chelsea when two goals behind with just three minutes to play.

It's clear Le Fondre is full of confidence and at the peak of his form – so why isn't he starting? There's a clamour amongst Loyal Royals for him to now start every match, and for the team to revert to 4-4-2 to accommodate this.

The truth is that, despite the media hype about Le Fondre's goalscoring, there's a bit more behind Reading's revival than just his goals. Just as critical is the tactical change that goes with it, a change designed to play to Le Fondre's strengths and to create the best possible environment in which he can thrive.

And for this, full credit must go to Brian McDermott, who has recognised that whether Reading line up in a 4-4-2 or 4-5-1, each formation has its deficiencies.

In the 4-4-2, with two strikers, Royals look much more likely to score, but they also look extremely vulnerable to conceding them, and this has happened several times this season. The last time the Royals started with a 4-4-2 in a Premier League match was at home to Arsenal in December, when they were 4-0 down by the hour mark.

That was a salutary lesson for McDermott, and in all subsequent Premier League matches he's sent the team out playing a 4-5-1.

But that formation also brings its problems. While Reading look far more solid - and concede fewer goals - with the extra man in midfield, playing with only one man up front they look far less likely to score themselves.

What McDermott has done seems a simple idea, but is really a stroke of pragmatic genius. His game plan since Christmas has been to start the match in 4-5-1, to nullify the opposition by closing down midfield, at the same time looking to use the pace of Jimmy Kebe and the guile of Jobi McAnuff to snatch a breakaway goal.

This has been largely successful in keeping the goals-against number low. Then Part Two of the strategy comes into play as he switches to 4-4-2, usually after 60-70 minutes, and this is the environment that gives in which Le Fondre the platform to deploy his killer instinct in front of goal.

Coming on fresh, against a tiring defence, his pace and mobility is a constant handful, and gives him the opportunity to take advantage of any confusion that this switch of formation causes the opposition defence Against Newcastle the first of his two goals was scored with his very first touch immediately after entering play.

I don't want to take anything away from the quality of his scoring, as his recent goals have been superb finishes, but I do believe that without this change of formation late in the game he'd not have the platform to be so successful. And the figures back that up – in eight starts before Christmas, largely playing 4-4-2, Le Fondre scored four goals in 711 minutes (or one goal every 177 minutes).

In that period he came off the bench nine times and failed to score – but admittedly, that was in a team lacking in confidence and creativity, and largely on the back foot in matches. But since McDermott has played the switch of formations and Le Fondre has come off the bench, he's scored five Premier League goals in just 148 minutes – or one every 29 minutes!

So as much as I'm sure he'd like to start every match, he's not always been as effective when starting - but it seems the combination of a fresh Le Fondre and a switch of formation against a tired defence is an absolutely dynamite one. It's a combination that is definitely working, and so Loyal Royals won't want to change such a wonderfully effective tactic in the near future.