Le Fondre's late show rescues Royals once again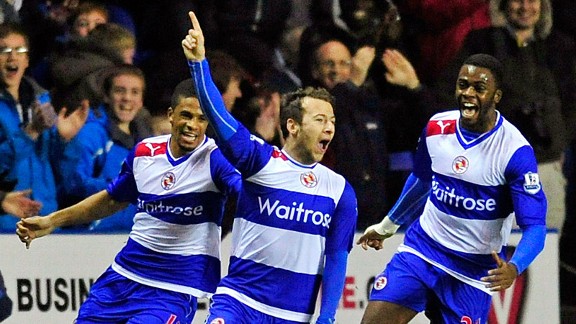 Glyn Kirk/AFP/Getty ImagesNever mind Superman. If you need help, Reading's Adam Le Fondre is the one to call.
In the scheme of Reading's ongoing battle against relegation, this match was never going to be critical. Reading's fate at the end of the season will be decided in games against the teams around them far more than it will be by results against teams competing for Champions League places. No one expected Reading to get anything out of this game, and so the attitude pre-match was that a point gained -- or even an unlikely three points gained -- would be a bonus.

- Le Fondre stuns Blues

Spirits were lifted when it became clear that Peter Cech was not fit, and that Ross Turnbull would start in goal for Chelsea -- those who witnessed Turnbull's less-than-confident display against Brentford on Sunday saw grounds for mild optimism, and together with Chelsea's recent erratic form and ongoing conflict over Rafa Benitez, perhaps this game wasn't quite such a foregone conclusion as the pundits suggested.

Reading started in their now regular 4-5-1 formation designed to stifle the opposition and keep down the goals conceded. And almost from the start the match took a predictable course -- following a script that could almost have been written before kickoff. The first half was predominantly Chelsea pressing but achieving few shots on target, with Reading making the occasional half-hearted break forward. But too often these breaks got nowhere, with Pavel Pogrebnyak too often isolated and outnumbered up front. In fact, until the very last kick of the first half, it was a half that passed largely without incident.

The most memorable moments were comic ones -- an outbreak of fighting among the Chelsea supporters and Fernando Torres' comic attempts to either score a goal or stay onside. The only notable goal action of the half came with its very last kick, as Juan Mata beat the Reading offside trap to latch onto a neat Torres pass from the edge of the area to slot home.

So far, so predictable -- and the second half continued in the same vein with Chelsea controlling possession and Reading making occasional, but ineffectual breaks. And after 65 minutes Chelsea doubled their lead as Frank Lampard, unmarked at a Chelsea corner, was free to head past Adam Federici. So the match was still going according to script, but of course the script for Reading over recent matches has involved an unbelievable comeback inspired by the goal scoring of Adam Le Fondre.

Le Fondre came off the bench immediately after Lampard's goal as Reading switched to a 4-4-2, but for 20 minutes, any comeback looked highly unlikely. With just four in midfield, Reading were unable to match Chelsea, who threatened to pass through or round them at will. But despite one or two minor scares, Reading kept the deficit to just two goals, and looking increasingly desperate, threw more and more players forward in what seemed to be a fruitless attempt to grab a goal back.

And amazingly after 87 minutes, and completely against the run of play, they did just that. And, inevitably, it was down to Le Fondre. With multiple bodies in the box, the ball was slotted through to him from the edge of the Chelsea area, and showing great skill and composure, he placed it between Turnbull and his near post into the net. Cue delirium among the Reading crowd and the feeling that the impossible was about to happen again surged around the MadStad.

Almost from the restart, the fourth official held up the board showing five minutes of added time -- possibly due to blatant time wasting from Chelsea -- and the stadium pulsated with belief. The script had preordained that any equalising goal would be scored by Le Fondre. Four minutes into the added on time, he again delivered in sublime fashion. The ball fell to him just inside the Chelsea area and he audaciously side-footed it past Turnbull -- a quite stunning piece of skill showing great calmness under pressure and the killer instinct of a striker in the peak of form and brimming with confidence.

The stadium erupted with euphoria as Le Fondre's late goals, made possible by McDermott's change of formation, and had once again turned around a match which looked a lost cause -- at the same time utterly silencing the Chelsea supporters. This may only be a point, but it certainly feels like a win -- and it's a point which lifts Reading out of the relegation zone and further demonstrates the fight and spirit that now exists in this squad. With their team now consistently showing this level of character and tenacity, Loyal Royals believe that Reading are perfectly placed to pull off a great escape that seemed out of the question just six weeks ago.