The Great Escape is on as Royals punish Pardew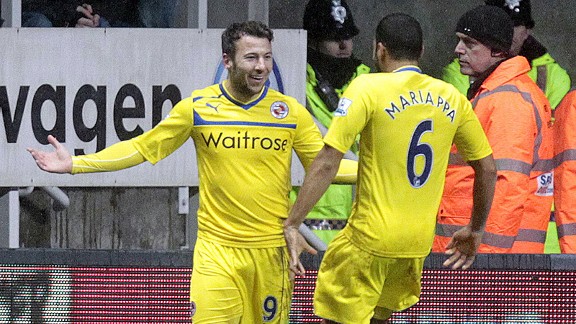 Graham Stuart/AFP/Getty ImagesSuper-sub Adam Le Fondre bagged a brace in six minutes to power Reading to a stunning win at Newcastle.
Football fans have long memories, and Reading fans always love getting one over Alan Pardew, who left the club amid contentious circumstances in 2003. So today's result is massively satisfying for Loyal Royals -- not just because of the vital first away win of the season, nor for the three points which lift them out of the relegation zone. It's intensely satisfying to beat Pardew yet again and to drag his Newcastle team into the relegation fight; even more so since, for some reason known only to himself, Pardew chose to centre his pre-match comments around an attack on the ability of Reading's big Russian striker, Pavel Pogrebnyak, to stay on his feet.

- Duffy: Enough is enough for Toon fans
- ALF double stuns Magpies

But despite all the bluster of Reading's former manager, the safe money seemed to be on Reading not picking anything up here. St James' Park has always been an unhappy venue for Royals, who have lost their last seven matches here by an aggregate score of 23-4, including shipping three goals on each of their last three visits. But it was the current manager, Brain McDermott, who had the last laugh today, as for the second week running his tactics worked a treat and allowed Reading to come from behind and snatch victory. And he did it in an almost identical way to last week's last-ditch win over West Brom, sticking to his strategy of starting the match in a 4-5-1 and trying to prevent the opposition scoring before switching to a 4-4-2 with 20 minutes remaining in an attempt to seize the initiative and the three points.

Today this formula worked spectacularly well again and it seems to be a winning one for Reading. True, the first part of the plan -- to stop the opposition from scoring for the first three-quarters of the match -- didn't work terribly well with Newcastle taking the lead after 34 minutes, a sublime Yohan Cabaye free kick that left Adam Federici flat-footed. In truth, Federici's knack of being in the right place at the right time also stopped the margin from being even larger as he made a series of fine first half blocks to keep Reading in the game.

In this period Reading did have a couple of brief attacks but these came to nothing. The best chance fell to Pogrebnyak who shot well over the bar after 26 minutes. Shortly afterwards, in what was an obviously wrong offside decision, another promising break was stopped in its tracks. But, as so often this season, when Reading did attack they often lacked support from midfield, and on the few occasions when they did commit numbers forward, they looked vulnerable to a quick break.

After 70 minutes, though, McDermott made his crucial change of formation -- and the switch to 4-4-2 yielded results almost immediately. After being on the field for just 55 seconds, substitute Adam Le Fondre bundled the ball into the net from a low, hard cross from Jimmy Kebe. There might be a suspicion that the ball came off his arm, but any Newcastle supporter who might suggest this can have no sense of karma, since Newcastle's equaliser in the return match at the Madejski Stadium was unashamedly punched into the Reading net by Demba Ba. But there can be no suggestion of any deliberate foul play by Le Fondre, who bravely flung himself at Tim Krul's feet to make contact with the ball and score.

So, Le Fondre, Reading's super-sub, had done it again, and just six minutes later he doubled his tally and turned this match completely on its head, pouncing on a loose ball just inside the Newcastle area after a wild miskick by Royals debutant Hope Akpan and slammed it past Krul and into the back of the net.

Cue delirium from the hardy Loyal Royals who had travelled 300 miles through blizzards and snowdrifts to witness this turnaround, despite sub-zero temperatures with a freezing wind in their faces, and who were willing their team to hold onto the lead for the final 13 minutes. In contrast, the home supporters were becoming visibly more restless, some voting with their feet to get a quick getaway and many roundly booing Pardew's substitutions. They can clearly see that their team are rudderless and demoralised and becoming more so with every game -- on this showing they must now considered one of the teams in the relegation "mix".

Although Newcastle did throw everything at Reading in the final minutes, they never really looked like scoring against a committed Reading defence -- the one decent chance they created was wasted with a wild, high shot by an unmarked Papiss Cisse who suddenly found the ball at his feet shortly before the end of normal time.

But the Reading defence held firm to grab this absolutely vital away win, and those pundits who had Reading written off as relegation certainties at Christmas need to look again. With 10 points out of a possible 15 since using a system that clearly brings them results and with confidence rising with every match, the Great Escape is on!