Regrets - but Tabb departure is inevitable
It's inevitable that as a club grows and brings in players to compete in the Premier League this will mean the departure of much-loved heroes and this week Reading announced that midfielder Jay Tabb would be allowed to leave the club this January if he can find a new club. This decision has disappointed many Loyal Royals, the majority of whom don't want to see Tabb leave – but this is just further confirmation that there's no room for sentiment in football.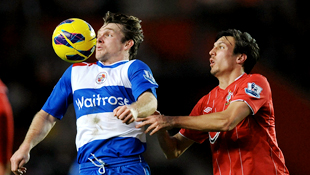 Christopher Lee/Getty ImagesReading supporters will miss Jay Tabb, left, but his departure gives the club room to find a better player
I'm amongst them, and Tabb has always been one of my own favourite players, but in footballing terms it's difficult to argue with the decision to allow him to leave. Although Tabb has started 12 Premier League matches for the Royals this season, this is contrary to the expectations of many, who expected Tabb to hardly figure in the first-team squad this season. But those appearances were largely down to Reading's dearth of central midfielders, and especially the injury to Jem Karacan which kept him out of the team eight weeks.

Truth be told, and much as it grieves me to write it, Tabb has looked to be not much more than a squad player in the Premier League – his creativity and imagination can only be described as limited, and his relatively slight stature (5-foot-5, 145 pounds) does him no favours when it comes to competing in a midfield where physical presence is as important as skill and effort. So the return to fitness of Karacan, coupled with the purchase of Hope Akpan and, to a lesser extent, Daniel Carrico and the emergence of Danny Guthrie, mean that Tabb's first-team chances are likely to be even fewer in the second half of the season.

So why are Loyal Royals so gutted Tabb is being allowed to leave if he seems to be not quite of the level required for the Premier League? Simply because since his arrival from Coventry in January 2009, Tabb has endeared himself to supporters by giving absolutely everything he can at every point of every game. Never once has he shirked a tackle or not chased a loose ball, and he has regularly clocked up vast distances chasing and harrying in central midfield. For instance, when Royals hosted Arsenal last month he covered a phenomenal 11.17 kilometres, far greater than any other player. For those supporters who appreciate effort and commitment, Jay Tabb is virtually the ultimate footballer with the perfect attitude.

But, sadly, in the Premier League effort and commitment aren't enough on their own, and so Tabb comes up short of what is needed. He's great at spoiling and a constant thorn in the side of an opposing midfield, but the skill level at this level means that a midfielder needs to bring a little more to the team than just chasing and harrying.

So, loved as he is by Loyal Royals, most of them accept that his time has come at the MadStad – and hope that he can get a club quickly and thrive there as a first-team regular. So far I've heard him linked with Watford and Nottingham Forest, and I'm sure he'd do well at either team – he's a great performer in the Championship, where there is less emphasis on out-and-out skill and his combative qualities bring him to the fore.

But as well as best wishes and kudos for Tabb, congratulations must go to Reading themselves for doing the decent thing by him. Many clubs would have held him to his contract until the end of the season, keeping him in the squad on the off-chance he was needed and denying him the chance to move on and further his career elsewhere. But having recognised that he is surplus to requirements, and allowing him to seek a new opportunity, Reading have done the best they can for him – many other clubs wouldn't be as flexible and understanding.

So, Jay Tabb, I salute you and thank you for your efforts, and I really hope you find a club where you can prosper. Any Championship club that signs you won't regret it, and their fans are sure to love you as Reading fans love you, because you'll give them everything you have – just as you always gave Reading everything.