Royals robbery backfoots Baggies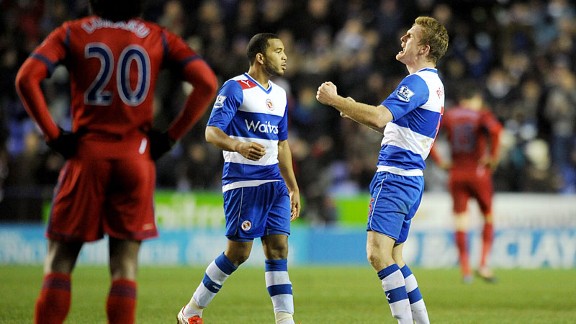 Press Association via AP ImagesReading's incredible comeback stunned West Brom's Romelu Lukaku, who had given the Baggies a two-goal lead
After 80 minutes, Reading supporters around me were discussing whether this performance was the team's worst of the season - and then in a manic eight minutes the team proved what a marvellously, wonderfully, intoxicatingly unpredictable game football is, as they scored three goals to somehow defeat West Brom 3-2 when defeat looked certain.

Because for the first 80 minutes, Royals looked like the team they were before Christmas – playing without passion, pace or creativity. In many ways, the first 90 percent of this game echoed the match between these teams at the Hawthorns in September.

Saturday, as then, both teams had possession and both teams had attacks, but the crucial difference was that every time West Brom attacked they looked like scoring, while only very occasionally did a Reading attack lead to a worthwhile scoring chance.

Because Reading, who started this match playing a 4-5-1, seem to have a fundamental dilemma in their game plan and personnel – they can either attack or they can defend, but they don't seem able to do both effectively, or to switch quickly from one mode to another.

All too often promising attacks, especially from Jimmy Kebe on the right flank, came to nothing because lone striker Pavel Pogrebnyak was alone and isolated with minimal support from midfield. But on the few occasions Reading did commit men forward they were left hopelessly exposed by the pace and power of West Brom's breaks.

Because the truth is that West Brom should have had this game sewn up long before the end – besides Romelu Lukaku's two clinical strikes after 19 and 59 minutes, Albion had numerous other good chances. For a while it looked as if Reading's man of the match might be the goal frame at the South end of the ground, with its post and crossbar rescuing Royals twice in the second half.

Perhaps tellingly, Albion's second goal came just three minutes after manager Brian McDermott had switched to 4-4-2, perhaps recognising that Pogrebnyak was hopelessly outnumbered and in need of support up front. Although he has physical presence, Pogrebnyak was allowing himself to be bullied off the ball far too easily by the Baggies defenders and if Reading were going to get anything from this match, he needed support.

Adam Le Fondre was brought on, replacing Jem Karacan, but for 15 minutes the timbre of the match didn't change, and Reading still huffed and puffed with no end result.

In the first half of the season Reading were a team that couldn't score goals except from set pieces – but today they were a team that couldn't score goals even from set pieces. Although Royals had many opportunities to put the ball into the box - from corners and from numerous free-kicks outside the West Brom box - delivery was consistently poor, with the vast majority either failing to beat the first man or going tamely into Baggies keeper Ben Foster's gloves without challenge. Real schoolboy errors Sunday morning players would be ashamed of.

But then, as West Brom were calmly playing out a routine win with 82 minutes left, it all suddenly changed. From what looked like another innocuous Reading attack, Kebe's diving header put the ball past Foster, and the majority of Royals fans probably felt "Oh, well, at least we've got a consolation goal."

But now, suddenly, Reading had the momentum, and with Baggies on the back foot the Madjeski crowd started to sense the possibility that something miraculous might happen.

Reading kept attacking, committing men forward at last as they perhaps sensed they had nothing to lose, and six minutes later grabbed the most unlikely of equalisers, after Kebe was flattened in the box by Jonas Olsson's flying tackle.

As clear a penalty as you'll ever see, with the only surprise – for me at least –that there was no card shown for what looked like a chest-high tackle. Le Fondre clinically put the penalty away and Reading fans were blinking in shock at snatching a highly undeserved point.

But there was better to come, and almost immediately Royals had grabbed all three points – the ball fell to Pogrebnyak who stabbed the ball past Foster, and the Madejski Stadium went mad. Reading saw out a nervous four minutes of added-on time without further drama, and as Loyal Royals were leaving the stadium to the sound of "I'm A Believer" on the PA system, many were asking themselves how that had happened and whether they'd really seen it.

Because this must have been one of the most blatant pieces of daylight robbery the Premier League has ever seen – from their performance in the first 80 minutes Reading had deserved absolutely nothing from this match, and West Bromwich players and management must be kicking themselves all the way back up the M40 as they wonder, in equal disbelief, how they managed to lose their grip.

It just goes to prove what a little bit of self-belief and perseverance, coupled with a bit of luck, can bring. For this result will do massive wonders for Reading's confidence in their ongoing fight to stay in the Premier League, and may have a much greater significance for them than just an additional three points.