History repeats as Royals struggle to unlock window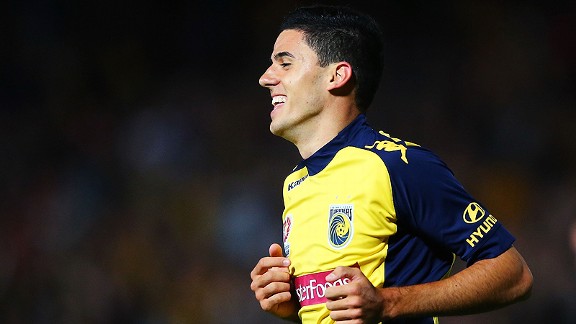 Brendon Thorne/Getty ImageIt felt like deja vu all over again for Reading fans when Tomas Rogic opted for Celtic over the Royals.
Despite the capture of Daniel Carrico on the first day of January, it seems that Reading are having some real problems in unlocking the transfer window and using it to their advantage. While many are putting this down to a reluctance to spend money on players and wages (or, as it is called when talking about pouring more and more cash into the bottomless pit of transfer fees and player wages -- "investing" money), I think the issues are more to do with finding players who are prepared to join the club.

- Reading poised to seal Kelly deal
- Reading deny Welbeck loan link

Because, although there are undoubtedly questions about how much money will be made available and how loosely -- or tightly -- the purse strings will be held, Reading's overall image and profile as a club seem to be bringing their own problems -- a problem made much worse by their current league position.

A case in point is 19-year-old Tomas Rogic, who for several weeks seemed certain to be joining Reading from Australian A-League club Central Coast Mariners. However, in the past week, this all seems to have fallen apart, with Rogic now joining up with Scottish Premier League champions Celtic for a training camp in Spain and looking like he'll sign permanently.

At the same time, commentators in Australia have been sending out reports that this change of heart is down to a perception that Reading is not the type of club best-suited as the next career step for Rogic. That, of course, ignores Reading's superb track-record as a hot-house for developing talent, with the likes of Shane Long and Gylfi Sigurdsson, not to mention the current crop of Royals youngsters, all having been spotted and developed by Royals Manager Brian McDermott. But such niceties aren't always clear from so far away.

For Royals fans though, this story of a virtually "done-deal" suddenly transforming into a "very-unlikely-to-happen-deal" is a sadly familiar story. Many times we've seen potential signings either decline to join the club or be snatched away from under our noses at the last minute. And this particular case of Rogic eerily echoes the case of Scott Brown in May 2007.

Hibernians midfielder Brown was lined up by the Reading management as a central-midfield replacement for Steve Sidwell, who'd left to join Chelsea, and the two clubs got as far as agreeing to a deal. But instead Brown opted to join Celtic -- coincidentally -- rather than Reading, and his words at the time say it all: "If I had chosen Reading I would probably be fighting a relegation battle next season and then maybe disappearing into the Championship. In two years' time people would have been saying, 'Remember that lad Scott Brown -- whatever happened to him?'"

Brown's words are consistent with the messages coming out of the antipodes. Lawrie McKinna, General Manager of Football at Central Coast Mariners says: "This is a great opportunity for Tomas to train with Celtic's first team squad. Celtic are in their mid-season break and are busy preparing for their Champions League matches against Juventus in February, so Tom will undoubtedly learn a lot from the experience."

So it looks as though Reading have lost out on another potentially season-saving transfer target at the last minute, which emphasises just how difficult it is for small, unfashionable clubs to compete with bigger teams in the transfer market. And being everyone's favourite for relegation, it makes attracting worthwhile talent in the January window so very much harder for such clubs.

Looking back to the case of Brown, many Loyal Royals believe that his presence in midfield would have made all the difference between relegation and Premier League survival. But alternative signing Emerse Fae -- not the first choice and arguably panic-bought -- turned out to be a complete waste of space, making only making eight appearances as Royals were relegated on goal difference at Derby on the final day of the season.

Reading supporters will be hoping that any alternative that McDermott and Nicky Hammond have up their sleeves -- and are able to sign -- will be of the right standard to make a difference, and to prevent this particular line of history further repeating itself.