Brian McDermott's January shopping list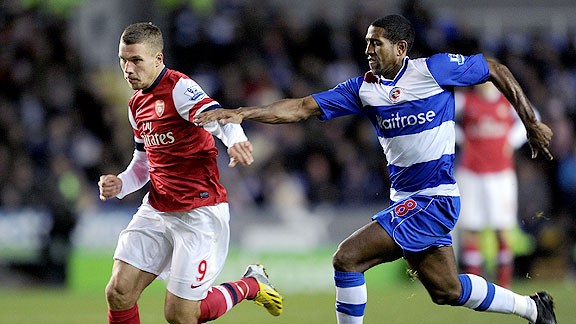 David Price/Arsenal FC/Getty ImagesReading's Mikele Leigertwood, right, is unable to keep up with Premiere League players such as Arsenal's Lukas Podolski
As 2012 turns into 2013, and the transfer window opens, it's a good time to look at where Brian McDermott should be prioritising his efforts to strengthen the team in the next month. This is by no means as clear-cut as it might have been a few weeks ago, though - through late November and the early weeks of December Reading were utterly dismal, and it was easy to make a case for strengthening the whole team.

Since then though, things have started to change, with a spirited - and very unlucky defeat by a single goal at Manchester City followed by a fighting draw against Swansea and most recently, a stirring victory against West Ham.

So it looks like the graph plotting Reading's fortunes this season is rising from its low point, and the feeling amongst Loyal Royals is now one of cautious optimism. And, even more gratifying, is that Aston Villa's dramatic slump means that they, rather than Reading, are now the Premier League whipping boys, the team that other supporters openly laugh about and see them as a guaranteed three points. Having said that, though, the failure of 'Arry to revive QPR means they're making their own effort to compete with Villa in the "laughing stock" stakes.

So, what are the positions most in need of strengthening in this improved Reading team? I'd say there are three where money might be usefully spent - although whether there is money available to spend is quite another issue, with conflicting stories coming from the club's manager and owner. These areas are right-back, central midfield and striker.

At right back, Brian McDermott has used both Chris Gunter and Shaun Cummings, but this has consistently been Reading's main defensive weakness, with the majority of goals conceded coming down this channel. At Wigan, for instance, Reading yielded vast acres of space down the left wing to Wigan, who scored all three goals from left-wing crosses, and that's been an ever-present vulnerability all season.

McDermott has found a workaround by having Jimmy Kebe plug this space, virtually as a supplementary right-back. But that limits Kebe as an attacking option, and I can't think that this can be a long-term solution.

In central midfield, much as it galls a Reading supporter to say it, Neil Warnock was right when he released Mikele Leigertwood prior to QPR's promotion to the Premier League. Outstanding as Leigertwood was for Reading in the Championship, he does seem out of his depth at the higher level - his distribution has been consistently poor, with numerous misplaced passes, and he frequently seems panicked and short of time. Reading desperately need a consistent and dependable holding midfielder who can both win the ball and pass it accurately - sadly, Leigertwood seems not to be this player,

Jay Tabb might have been, but appears to be overlooked in this role through his lack of physical presence, so this is maybe the most important area where Royals need to strengthen.

Up front, although Reading have a number of striking options, they all seem best-suited to playing as one of a pair. The "new, enlightened" Reading are playing 4-5-1 and none of the current strikers seem ideal for the lone-striker role. Pavel Pogrebnyak has been making a decent stab of this, but there are doubts about his pace and fitness, and the same questions remain about Jason Roberts - who is on record as saying he doesn't enjoy that role in any case.

Adam Le Fondre and Noel Hunt, for all their energy, don't really have the strength and stature to win the ball and hold it up against big, ugly centre-backs, so a striker who revels in this role is also a necessity on McDermott's shopping list.

The above three positions aren't the end of the story, of course, as cases can be made for extra strength, and extra squad-depth virtually all across the team. But the three positions above are the ones I see as the critically urgent needs, the ones which will make the biggest difference to Reading's chances of surviving relegation. It's now in the hands of McDermott, Nicky Hammond, Anton Zingarvich's chequebook - and of course the transfer gods - to see how many are achieved.