Business as usual as Reading rattle Hammers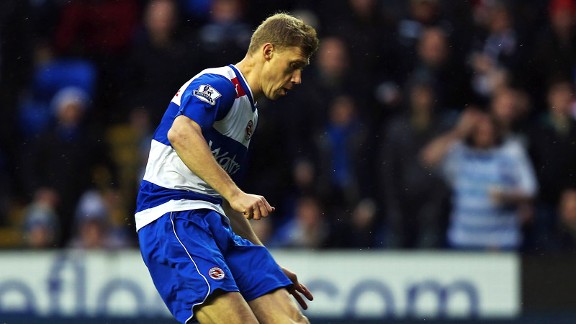 Bryn Lennon/Getty ImagesPavel Pogrebnyak's early goal was enough to give Reading a much-needed win over West Ham.
This match was almost the good old "irresistible force" meeting the "immovable object". Reading, who this season can't seem to beat anyone, playing West Ham, the team they almost always beat -- with five wins from the last seven matches, including a memorable 6-0 New Year's thumping six years ago.

- Match report: Reading 1-0 West Ham
- McDermott doubts Arshavin deal

And after another 90 minutes, the run of Royals' victories is now six from the last eight, as Reading again triumphed and West Ham were rattled to the core and showed their frustration on the pitch. West Ham must absolutely hate playing Reading -- it's always a horrible experience for them -- and they must doubly hate playing Jimmy Kebe, who seems to somehow lift his game against the Hammers despite attracting considerable physical attention.

Brian McDermott stuck with the team that grounded out a point against Swansea on Boxing Day, and the partnership of Jem Karacan and Danny Guthrie playing as the "two" in a 4-3-2-1 "Christmas Tree" formation was once again a revelation. They bring to Reading a pace, energy and creativity which has been sorely lacking for months, and when they are together, the team looks completely different from the one that surrendered at the likes of Southampton and Sunderland in early December. As well as closing down the opposition defenders, hassling and harrying them and denying them time on the ball, their work rate is phenomenal. Karacan, in particular, seems to be at every spot on the pitch where the action is, back defending when needed and then storming forward with the ball.

The team is now trying different things, and making things happen -- true, things don't always work, but it's a world apart from what we were seeing so recently. However, the goal which decided this game, in the fifth minute, was such a present it might have been gift-wrapped. James Collins, under pressure from Royals striker Pavel Pogrebnyak, played a routine back pass to his goalkeeper Jussi Jaaskelainen, but left it woefully short, and it was a formality for Pogrebnyak to run onto it and score.

That woke the Reading crowd up, and the atmosphere was electric for the rest of the match as both teams gave it everything. Have no illusions about it -- this wasn't pretty to watch, but it was a gripping encounter. It was a proper English match -- played with blood and thunder in the pouring rain on a near-mudbath of a pitch by two teams not the most technically-gifted, but who were playing with total commitment. You'd not see any "tippa-tappa" by global superstars with global salaries -- this was football for the purists who value passion and pace ahead of all the fancy tricks and step-overs in the world.

Following the goal, Reading soaked up West Ham pressure as the West Ham players got visibly more and more frustrated, and as the game went on things got more chippy and stop-start. Carlton Cole, in particular, is worthy of mention for one kick and one stamp in two separate incidents, either of which would have merited a straight red card in front of a more observant referee. If he doesn't get a suspension of these incidents after television review, then there's just no justice in the world.

The truth is, referee Michael Oliver didn't have a great game, and missed a lot. But perhaps he should be given credit for managing to keep all 22 players on the pitch for the game, as most pundits would have put money on at least one sending-off. He conspicuously kept his cards in his pocket in the first half whenever possible, perhaps trying to avoid having painted himself into a corner with over-use of cards too early. For instance, he chose not to caution Kevin Nolan for blatant dissent in the first-half, and as a result, he avoided being faced with a difficult decision when Nolan cynically stopped a Reading break by hacking down Hal Robson-Kanu in the second half.

As they have done in their two most recent matches, Reading conceded pressure when it couldn't hurt them and defended in numbers when required. And despite West Ham's possession, they had few chances to equalise. McDermott, who is clearly learning more about the Premier League with every match, had the tactical nous to change to a 4-4-2 with 25 minutes to go, bringing on Noel Hunt to solve the problem of Reading conceding possession with every clearance -- something inevitable with only one up front.

That made the final stages of the game more competitive, and Reading might have doubled their lead through a superb Karacan volley which hit the crossbar late on, while West Ham could -- and probably should -- have snatched a draw late on when Ricardo Vaz Te had a free header a yard from goal which he put inexplicably wide.

So, Loyal Royals go home happy -- not just because of a second win and the fact that it came over the team we love to beat most, but because of the nature of the win. It wasn't pretty, and it was ground out, but all the words that have been missing from descriptions of Reading this season -- words like commitment, pace, desire, effort, energy, creativity and confidence -- can be used today. And it's so refreshing to see because Reading are starting to show character, and that's the word that's been missing most of all!