Royals effort all for nothing after Man City sickener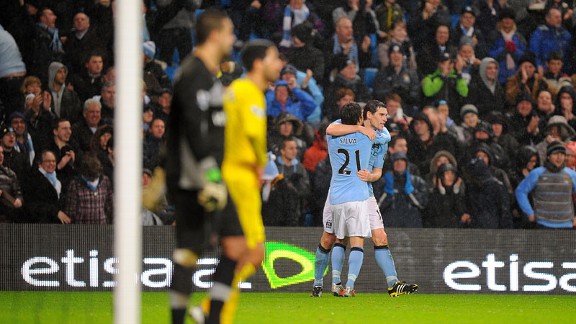 PA PhotosGareth Barry celebrates Man City's late winner against Reading
Before this match everyone thought Reading would be lambs to the slaughter, with the main topic of speculation being how many goals Manchester City would put past their defence. In fact, the gulf of expectations was so wide that bookies were offering the same odds for a 1-0 Reading win as for a City 7-0 victory. But Brian McDermott reorganised his lambs and they avoided the slaughter, and can count themselves extremely unlucky to be returning home with no points after a herculean effort in which they came so, so close to scraping a point against the Premier League Champions.

- Late Barry header snatches win

But when you're at the bottom of the table Lady Luck seems to scowl rather than smile on you, and Royals conceded a morale-sapping goal less than two minutes from the end of added-on time, after steadfastly resisting everything City's multitalented internationals could throw at them for the previous 93 minutes. Loyal Royals over recent months have grown used to travelling home from matches feeling like they've been punched in the solar plexus, but today that familiar sickening feeling in the pit of their stomachs is down to the nature of the defeat and not, for once, the performance their team has put in.

Even more gutting was the way the goal was scored, with Gareth Barry using a stationary Nicky Shorey as a springboard to reach the ball and head it in past Adam Federici. As clear an offence of climbing as you'll ever see, but it's a truism that teams like Reading hardly ever get the benefit of the doubt from referees when playing the biggest teams.

But despite that, this was the sort of fight that Reading fans have been wanting to see for weeks, as well as a long-overdue willingness from McDermott to change from his beloved 4-4-2 formation to one more suited to the nature of the opposition and his team's situation in the Premier League. Supporters have been crying out for a change to 4-5-1 for weeks, and McDermott did switch to that formation midway through the second half against Arsenal on Monday. Today he started with 4-5-1 with a midfield of McAnuff, Tabb, Leigertwood, Karacan and Kebe, with three changes to the defence behind them. Up front, Pavel Pogrebnyak was lone striker, a role many believe he is just not suited to.

And Reading did manage to soak up virtually everything this City side conjured up in front of goal. They were happy to concede possession to City for most of the match, and, when under pressure, concentrated in getting numbers back to defend - the City attackers were faced with two resolute lines of five and four, with winger Jimmy Kebe added to the back line as effectively a supplementary right back outside of Chris Gunter.

This game plan did largely succeed in stifling City chances; although the home team had plenty of the ball and a number of half-chances, the Reading defence - for once - looked organised and committed, and their goal was rarely troubled. Of course, this game plan severely limited Reading's attacking options, since Pogrebnyak saw very little of the ball and Reading were understandably reluctant to commit players forward, but they did have a number of half-chances themselves.

In particular Alex Pearce had two uncontested far-post headers from Reading corners but failed to hit the target, and Reading should arguably have had a penalty after 60 minutes, for two Man City offences committed simultaneously. At the same time as a McAnuff cross was being batted away by the hand of a Man City defender, Jay Tabb was flattened near the penalty stop by the full force of City debutant Karim Rekik, leading with his elbow into Tabb's ribs. A quite blatant off-the-ball incident that would have been a free kick anywhere else on the pitch - but again, the statistics show how rare it is for such decisions to go the way of "small-team" visitors playing at top-of-the-table teams.

Despite this being another defeat, the nature of it was quite different to the way Reading have played in the majority of their recent matches, and this is one match from which there actually are positives to be taken. Many Loyal Royals now expect relegation but at least want to see their team put up a decent fight before the inevitable happens - and the effort and commitment shown today does at least show there is some fight and some spirit there, as well as a willingness to adapt. So although this changes nothing in Reading's league position, once the feeling of being gutted subsides, Reading supporters will reflect on just how great an effort this was and how in many ways it's a real moral victory.