Can Guthrie present Gunners with magic bullet?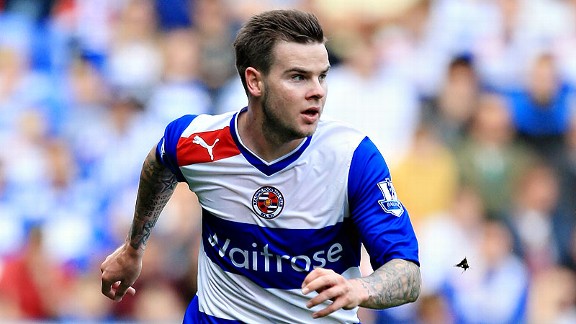 Mike Hewitt/Getty ImagesDanny Guthrie was just one Reading signing that didn't deliver
As a thoroughly demoralised Reading team prepares to host Arsenal at the Madejski Stadium Monday, the biggest talking point amongst Loyal Royals is whether midfielder Danny Guthrie will play any part in this match.

Because what seems to have been a long-simmering row erupted into public unhappiness prior to the Royals' defeat at Sunderland. After the insipid defeat to Southampton the previous weekend, there was an obvious need for changes and the addition of a creative spark, and so it was widely expected that Guthrie would be a sure starter at the Stadium of Light.

He'd been an unused substitute the previous two matches after coming back from injury – although as usual in such cases there were some conspiracy theorists who questioned just how much of his absence from the first-team was injury and just how much was tactical – especially in the light of critical Tweets from Guthrie back in September when dropped from the team.

But before the Sunderland match it emerged that Guthrie had texted manager Brian McDermott just before the team was due to travel north, saying that "his head wasn't in the right place" and so he couldn't travel. Without Guthrie, Reading churned out another soulless performance against the Black Cats, losing 3-0, and discussion of Guthrie and his position at the club reached new heights.

Guthrie has now publicly apologised to the players and supporters and been fined by the club, and so the matter would appear to be closed. But many question just how much this whole saga has now been put to bed, and whole new levels of cynicism have been heaped on Guthrie's pronouncement that "he loves this club" – the club he has been with for less than six months and only played six matches for! Footballers are well-known for insincerity, but I think not even the most gullible of Loyal Royals actually believes this.

So, with peace apparently breaking out in the Reading dressing room, it's a fair bet that Guthrie will start against Arsenal, and the widespread hope is that he will bring the team a spark of creativity that has been absent over recent weeks. But I fear that many despondent Reading fans may be anticipating his return a little too much – after all, he is just one player, and his five previous Premier League games for Reading have brought a solitary point. He is, however, just about the only different option available to McDermott, and supporters who have seen their team's performances slide inexorably downward over recent weeks are clinging to the idea of Guthrie as a "talisman" – someone who can return from the wilderness of the reserves and turn the season round.

The only problem with the idea of Guthrie being Reading's "magic bullet" is that the opposition isn't just any another run-of-the-mill Premier League team. They are up against Arsenal, one of the "Big Five" – and what's more a wounded, cornered Arsenal, with Arsene Wenger under growing pressure after the inglorious Capital One Cup exit to lowly Bradford City last week. The paradox of Guthrie's potential return is that all perceived wisdom says the only way a team like Reading is likely to compete with Arsenal is to play a high-tempo, all-action, closing-down quickly game, hassling Arsenal at all times and getting in the faces of their players throughout.

And that's precisely the type of game that Guthrie doesn't bring, and apparently one of the reasons he has been out of the team. He is a much more cultured player, who makes his own time on the ball and who can pick a quality pass, but not a workaholic ball-winning, hard-tackling midfielder.

So McDermott has two extreme options to from which to choose. He can either try to change the team's style to fit Guthrie's style, or he can ask Guthrie to adapt to the team's style. Choosing the former option of trying to "out-football" Arsenal brings obvious risks of playing to the opposition's strengths rather than to his own team's, but choosing the latter brings the risk of possibly blunting Guthrie's effectiveness as an attacking midfielder. I'd hope McDermott will mitigate this risk by opting for a five-man midfield, including Guthrie, but over recent matches he has shown a marked tendency to cling to 4-4-2 like a drowning man clings to a life raft, so it remains to be seen whether he will change formation Monday.

Of course, in many ways this is another game where the pressure is off as everyone expects a comfortable Arsenal victory, and anything other than a major thumping will be seen as a good result for Reading. Knowing this, they may just play in the relaxed and carefree style way of the Reading team that stormed to a 4-0 lead over Arsenal in the Capital One Cup at the end of October – but unless McDermott and the return of Guthrie can conjure up a small miracle the smart money would be on them playing much more like the same ponderous and demoralised Reading team that surrendered that lead to Arsenal to lose 7-5 after extra time.