Can 'dynasty' of bosses follow McDermott?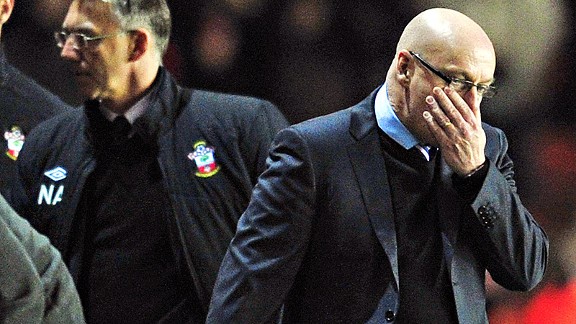 Glyn Kirk/AFP/Getty ImagesBrian McDermott's status as Reading manager is becoming more shaky
Saturday 8th December 2012 was a momentous day in Brian McDermott's managerial career. For this was the day that it appears McDermott finally lost the support of the majority of Reading supporters, after his team's insipid 1-0 surrender to Southampton at St Mary's Stadium.

And this isn't just the standard knee-jerk reactions of the "Championship Manager generation" - younger supporters who get their views on football from simulation games, where a manager can be changed at the press of a button and result instant. The feeling that something has to change is now coming from some of the more mature and seasoned observer, who recognise changing a manager is a much more complicated and significant thing, with results that may turn out to be anything other than an improvement in form.

In fact, the feeling the defeat at St Mary's was something of a tipping point seems to be evident from McDermott's post-match press conference, when he focused on how this performance just wasn't good enough, saying "We have to be better than that, we need to combine a performance in all areas, everything needs to come together."

That was a marked departure from McDermott's usual summary, since all season - and especially during the three previous defeats - he has always striven to find some positives from every performance - even if it opened him up to some ridicule from match-going supporters.

For example, his statement just eight days ago that Reading fans "are really enjoying what they are watching at the minute" was greeted with general hilarity – the reality is there are few things as disheartening for Loyal Royals as seeing their team regularly throw away leads, gift goals to the opposition or just meekly go through the motions with predictable, one-dimensional and passionless football as they have in recent matches against relegation opponents. Knowing they can raise their game against the likes of Arsenal and Manchester United just makes this feeling worse.

So what are the options now for Reading, and just how likely are they to make a managerial change? In some ways, we're in unknown territory since the takeover by Anton Zingarevich this year – although Sir John Madejski is still Chairman of the Football Club, control of the purse strings and the real power lies with the young Russian, who is, by all accounts, a great friend of McDermott.

But despite the power of Zingarevich, there are still enough of the old guard within the Football Club to influence his decision-making, and their way, "the Reading way", is to resist changing a manager in a hurry, never to do so unless it is has become absolutely unavoidable – and only then to do it when a successor was already available. There's certainly been a desire to keep the management in-house as much as possible, and to have a long-term succession plan, with view to building a "dynasty" of Reading managers, akin to the Liverpool "boot-room" dynasty of the 1970s and 80s.

Indeed, McDermott's predecessor, Brendan Rodgers, was only sacked in December 2009, when McDermott privately made it clear that he was ready to take the reins. Before that, Rodgers' tenure had been extended perhaps longer than expected as there was no natural successor. And, let it not be forgotten, Rodgers himself was appointed as "one of our own" after learning his trade as a coach over many years with Royals youth and reserve teams – he was then lured away to roles at Chelsea and Watford before returning to the club that he regarded as his natural home.

Prior to him, Steve Coppell was appointed on the advice of Alan Pardew, despite the latter's sudden and acrimonious departure to West Ham. Although that is clearly a different scenario, it emphasises the point that inbuilt into Reading's club DNA is a hatred of managerial uncertainty, and a great reluctance to replace managers on a whim – and even more so when there isn't an obvious, internal replacement.

Coupled with the respect and affection in which McDermott is held inside the club – and the overall recognition of what he has achieved here before this season on relatively meagre resources – I don't expect Reading to make a quick managerial change. Despite the current malaise enveloping the club, I still think McDermott's record over the years at the club will buy him a few more matches at least, especially when the decision-makers' reluctance to make changes is considered.

Plus, of course, there's a great big question to which no one yet has any clear answers - could any other manager get any more out of this squad of players? But that's a discussion for another blog.