The case for a permanent defensive partnership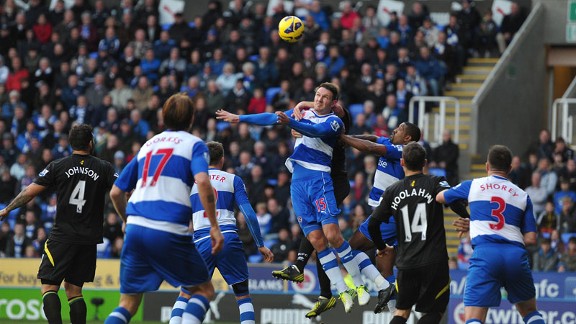 PA PhotosSean Morrison has been a standout in Reading's constantly shuffled defence
Eleven matches into the Premier League season, and at last with a League victory under their belts, Reading move into the next round of matches with a renewed confidence and vigour. But there are still a number of unanswered questions hanging over the team selection and not least amongst these is the question: "Which is Reading's most effective central defensive partnership?"

It's a truism in football that a winning team is built on a settled defence, and Reading last season proved just how true this can be. Their Championship winning team's central defensive partnership was virtually unchanged all season, with Kaspars Gorkss playing in 43 out of the 46 matches and Alex Pearce playing in all 46. That's a quite astounding statistic for a Championship season, only made possible by the quality of their play, which included avoiding red cards or suspensions, and having sufficient luck to avoid injuries.

This season, however, things have not been anywhere near as settled, and it's hard to escape the conclusion that manager Brian McDermott has been shuffling his pack in an attempt to find out exactly which pair of central defenders is the one best equipped for life in the Premier League.

The season started with the same combination as last season, with Gorkss and Pearce alongside each other for the first four league games of the season. But then Pearce was relegated to the bench and Adrian Mariappa took his place for the next four games. And, as previously noted in this column, the jury is still out on whether Pearce's demotion was really down to tactical reasons, or whether it is somehow related to his on-going "contract dispute" with the club.

Coincidentally, Mariappa had just four league games starting alongside Gorkss before he too was dropped, this time being replaced by 21-year-old Sean Morrison, starting his first Premier League matches. Although Mariappa didn't seem to do too much terribly wrong, McDermott's decision to blood Morrison is already looking like a master-stroke, since the youngster has been receiving rave reviews for his performances so far, not least during the victory over Everton where one last-ditch tackle to dispossess Leighton Baines was simply sublime.

But whilst selecting Morrison seems an unqualified success, questions can be asked over the fact that Gorkss appears to be undroppable, having started all 11 matches. Just why is McDermott only shuffling one half of his central-defensive pack? Certainly, when Gorkss is good, he's very, very good, and he's put in some impressive performances this season, dominating opponents in the air. But he does seem to be prone to occasional lapses of concentration, with a fair number of the team's conceded goals this season being attributable to these.

A good example is Arsenal's first goal in the disastrous Capital One Cup defeat at home. Gorkss appeared to be caught napping and allowed himself to be beaten to what should have been a fairly straight forward clearance. Instead, Theo Walcott got to the ball and raced clear to score, providing Arsenal with the catalyst for their dramatic recovery.

So why has Gorkss been ever-present whilst three different partners have been selected alongside him this season? Maybe McDermott has decided that the defence does need at least some kind of continuity whilst he experiments, and that to change both central-defenders in a match would be a change too far. Or maybe he sees the experienced Gorkss as the key organiser of the defence, leading the defensive line and co-ordinating the off-side trap? If the latter, I'd say that the Reading defence hasn't looked particularly well-organised for much of this season and, in fact, sometimes has seemed in virtual disarray. So if Gorkss really is the best organiser available, that is an area for concern.

But now Sean Morrison has forced his way into the team and looks set to have an extended run there, will he be the fixture whilst McDermott rotates the other half of the partnership? Or has McDermott finished the experiments and now Gorkss and Morrison will be the settled selection, the first-choice pair at the back? If so, a good proportion of Loyal Royals would express surprise at just how many chances Gorkss has been given to cement his place in the team than Pearce or Mariappa have, and would also express concern that Gorkss's occasional - but costly - lapses of concentration need to be addressed before he can rightly be the first name on the defensive team sheet.