A Rousing Royals Recovery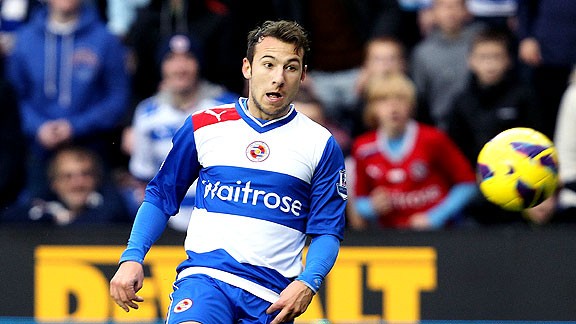 Jan Kruger/Getty ImagesReading's Adam Le Fondre scored two second-half goals
"A game of two halves" is a horrendous cliché, but sometimes they are unavoidable – and this was one of those days.

After spending the first 45 minutes looking destined for relegation, Reading came out and had a storming second half Saturday to grab the three points and confound the critics – and the cheer from the Madesjki crowd at the end, in salute to Reading's first Premier League win of the season, must have been the loudest heard here since promotion was guaranteed in April.

- Reading earns 1st Premier League win of season

At half-time, that looked a million miles away. The home team looked like one which knew that in-form Everton were streets ahead of them in every department. There was minimal self-belief and far too much respect shown, as Reading were just that fraction slow to every ball and stood off Everton, to the extent that the visitors were able to exert complete control, with 68 percent of first-half possession.

The Royals showed no sophistication and no desire to take initiative – it really was men against boys - especially in the midfield matchup of 5-foot-5 Jay Tabb vs. 6-4 Marouane Fellaini – and the pace and movement of Steven Pienaar up front was stretching the Reading defence in all directions.

That's not to say Reading didn't have useful possession, but as in previous games they did too little with it. Strikers Jason Roberts and Adam Le Fondre worked hard running the channels, but too often when they did come out with the ball there was minimal support from midfield – with no one to aim at and having to wait for reinforcements to arrive.

The Royals did have one good early chance, when Le Fondre beat Everton keeper Tim Howard to a long ball outside the angle of the penalty area, but his hopeful shot towards the empty net went well wide.

At the other end, though, Everton hadn't done enough to turn their dominance into goals, scoring just the one. That came in the 10th minute, through what can only be described as abject defending. The Reading defence had two or three chances to clear the ball, but no one seemed to be able to exert any authority over the area, and as they dithered Steven Naismith slid the ball past Adam Federici.

Everton only had themselves to blame for not going further in front, but didn't capitalise on their possession, despite having 12 shots in the half, seven on target.

So as the teams walked in at half-time Loyal Royals feared that this might be the day when their team's lack of pedigree was finally exposed to the world. Unlike other relegation candidates, The Royals haven't been on the wrong end of a thumping this season, but many feared that if Everton got their game together this might be it.

In my own notebook, I think I summed up Reading's first-half performance – "simply out of their depth".

But one of the wonderful things about football is how it can all change in an instant. Instead of the feared thumping, a different Reading team seemed to come out for this half. With the central midfielders now pushing up to support the front two, Reading forced a couple of quick corners, and Jay Tabb in particular was tireless in supporting the attackers. And just six minutes into the half, Tabb was fouled, Nicky Shorey played a good in-swinging free-kick into the box where Le Fondre found space and powered an unstoppable header past Howard to equalise.

As well as the perfect finish, this was a perfectly delivered free-kick – another change from the first half, where the majority of Shorey's set pieces had failed to beat the first defender.

With the home crowd now active and participating, Royals continued to push forward with a passion and tenacity rarely seen this season – a performance almost unrecognisable from their first-half effort. But the odd thing is that there were no great tactical changes, and no-one particularly changed their playing style – they just somehow dug deeper, playing with confidence and not being afraid to try things. All of those qualities have been virtual strangers at the MadStad this season.

The confidence and tenacity weren't just confined to attacking players, though. The moment of the match, for me, came after 59 minutes, when centre back Sean Morrison made a match-saving last-ditch tackle to dispossess Leighton Baines on the edge of the Reading area. It was one of those tackles where a millimetre's inaccuracy or a microsecond's mistiming would result in a red card and a penalty, but this was as perfect a tackle as you'll see in a season.

Everton were still attacking, but now Reading were matching them, and 12 minutes from the end Coleman flattened Le Fondre in the box as they both went for a ball played in. After a moment's consideration, referee Martin Atkinson awarded a penalty, which Le Fondre dispatched clinically. With only 12 minutes to hold on, and with Reading playing so well, Loyal Royals were confident that Reading could hold on, and they managed to in a highly professional style, keeping possession and making Everton fight to win the ball back. The only scare was a Fellaini effort which bounced off the post into Federici's arms, but at the final whistle came the momentous roar that signalled this first win.

Results elsewhere went Reading's way too, and so Loyal Royals leaving the match could bask in the fact this win had lifted their team out of the bottom three for the first time this season – and in a game most had expected to lose, too. It's suddenly much more fun being a Reading fan than it has been for weeks. Sith the confidence this result and second-half performance brings, and with the "still waiting for a win" monkey off their backs at last it's not premature to say that the Royals Revival started today.