Reading can't have it both ways in Norwich stalemate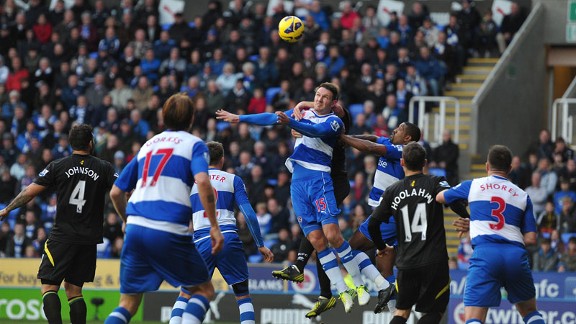 PA PhotosSean Morrison has been a standout in Reading's constantly shuffled defence
Another week, another "must-win" game for Reading - and another draw! Reading fans will have mixed feelings about Saturday's game against Norwich, which ended goalless. There are certainly positives to be taken from the Royal's first clean sheet of the season, but negatives to be taken as well from their inability to score despite having by far the best of the attacking possession.

- Davitt: Norwich the happier after a drab affair
- Stalemate at the Madejski

After a tentative start from both teams, the game settled into a pattern which lasted until the last twenty minutes. Norwich had plenty of possession, and kept it much better than Reading, but the bulk of this possession was in areas where they couldn't hurt the home team. Their attacks were sporadic and mainly relied on long balls for Holt, Hoolahan or Pilkington to run onto. This was meat and drink to the Reading centre-back partnership of Kaspars Gorkss and Sean Morrison, and in fact Adam Federici, unexpectedly back in the Royals's starting line due to Alex McCarthy's shoulder injury, didn't have a meaningful save to make until the last ten minutes of this game.

Reading, on the other hand, did a lot more with the ball when they had it. In their usual style, most of their attacks came down the flanks, with Jobi McAnuff and Gareth McCleary very lively - the latter having what I'd call his best game in a Reading shirt so far. Roberts and Hunt also worked tirelessly up front, running the channels and holding the ball up for the Reading midfield to join the attack, but this was a theme of the afternoon, and where Reading's game plan broke down.

Because despite countless promising attacks, far too many times Reading just didn't have the numbers forward to support the attacks. Frequently Roberts and Hunt were isolated up front, and waiting in vain for reinforcements to join them, and I actually lost count of the number of crosses into the box.

But nothing came from all those crosses - virtually every single one was easily cleared by a Norwich head or boot - which was hardly surprising since almost every time there was only a single Blue and White shirt to aim at. Reading's dominance in the final third of the pitch is shown by their 10 corners, but their failure to do something with that dominance is shown by their total of two shots on target.

The final twenty minutes was more lively, and either team might have snatched a late winner as the crowd woke up and the opened up. But the closest chance from Reading was a Jimmy Kebe cross that hit the Norwich crossbar. Once Jason Roberts went off with ten minutes to go it looked more likely that the winners would be Norwich. That was when they first tested Federici with their single on-target attempt, but this was a game that will give neither team satisfaction nor one which supporters would have particularly enjoyed.

The enjoyment factor wasn't helped by the fussy refereeing of Chris Foy, which meant the game was stop/start throughout, punctuated by silly fouls and off-sides. Despite this, Mr Foy still managed to miss a fair number of incidents of near-wrestling in what was a physical but non-contentious game. In fact, one of the most entertaining incidents was watching Holt lose his temper with his Norwich team-mates towards the end of the first half, comically berating them for not playing the balls he wanted.

We did, however, learn that Reading's problem is no longer the fragility of their defence - although they were hardly tested by this Norwich team - but a misfiring central midfield. Jay Tabb was less influential than in recent matches and Mikele Leigertwood had a particularly poor game - with numerous misplaced passes - but when reinforcements were needed up front they tended not to be there. It's essential that the central midfielders give the attack the support they need to turn attacking possession into goals, but on Saturday it just didn't happen.

Perhaps this is all part of the Brian McDermott's game plan, and he's decided that the team should be more cautious, and not commit too many men forward. Such an emphasis on defence as first priority for the midfield has a lot going for it- and we did see the team's first clean-sheet of the season - but if it also means the goals at the other end dry up then that has to be a concern.

McDermott somehow needs to find a way to have the best of both worlds, with solid defensive midfielders who can also join the attack as required - but I'm afraid that in this current Reading squad he just doesn't have the right players to let him have it both ways.