When Reading were relegated in 2008 after just two seasons in the Premier league, pundits put this down to "Second Season Syndrome". If they get relegated this season, almost certainly that will be down to "Second Half Syndrome".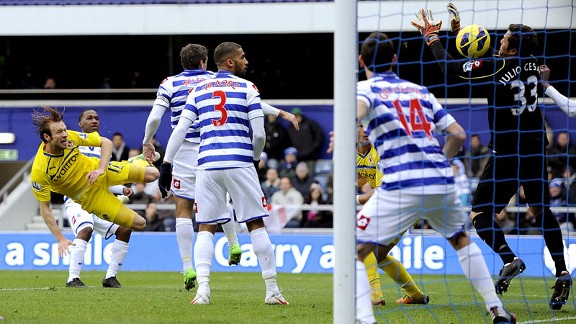 PA PhotosKaspars Gorkss volleys Reading into the lead at Loftus Road

Because we're seeing a more and more familiar pattern with every match this season - so much so, in fact, that being a Reading fan this season is like experiencing ongoing deja vu. Reading start matches well, play very well in the first half, go into the break with a lead, and then succumb to second half pressure, allowing the opposition to equalise.

In the last 8 days alone the team has led at half-time three times (1-0 to both Fulham and QPR, and an incredible 4-1 to Arsenal) and all three times they've crumbled in the second half to allow the opposition to come away with a draw - or worse in the case of the Arsenal Capital One Cup game. And previously in the season they'd also had half-time leads over Swansea, Stoke and Chelsea as well as taking and losing a later lead over Newcastle - to end up with three draws and a defeat from those matches.

And Sunday's "must-win" match against fellow-strugglers QPR at Loftus Road was almost the classic example of that - Reading started well, and had the bulk of the possession and the majority of the changes, restricting QPR to a few breaks and long-range shots. And they justly led at half-time, after an acrobatic volley from Kaspars Gorkss after his central-defensive partner Sean Morrison had hit the QPR bar from a corner.

As with Tuesday's surrender to Arsenal, it's the sheer inevitability of the collapse that hurts Loyal Royals most, and the second half-of this match was vastly different, as Reading looked a shadow of their former selves, allowing QPR too much time and space, standing off them too much and almost waiting for the equaliser - which duly came from Djibril Cisse after 66 minutes. And despite the scores being level, Reading were unable to snatch the initiative back from a QPR team which now had all the momentum, and in the end were grateful to come away with one point. But one point in a critical game like this does neither team any favours - whilst they keep pace with each other, the gap between 17th and 18th place in the Premier League grows ever bigger.

So why is it quite so painful to be a Reading fan in the second half of matches? I'm sure there's no easy answer, and that no one single factor behind this, but I'm sure it must be in the brain rather than in the fitness of the players. Last season Reading were one of the fittest teams in the Championship, and one of the key factors behind their run to the title was an ability to last matches right to the end, out-pacing opponents and scoring critical late goals.

But one of the oddest things about these second-half surrenders is that there's no clear reason why - none of the Reading players seem to play particularly badly, or have their individual performances dip - but it just seems to be a collective miasma of the whole team morphing into a team of rabbits staring into headlights whenever they come out with a lead to defend. Notable exceptions to this were Jay Tabb and Alex McCarthy - although both squad players at the start of the season, they have both had a run of superb matches, with McCarthy in particular making at least two simply world-class saves to keep the Royals in the game.

It's clear to all that this inability to hold onto a lead is Reading's biggest single failing at the moment - the one thing most likely to see them back in the Championship next season. I'm sure Brian McDermott and his coaching staff are aware of this too, but so far they don't seem to have come up with an answer - with considerable criticism being levelled at McDermott for his substitutions, or lack of them. For the past few seasons his substitutions have either been either brilliantly timed or supremely lucky - but whichever it was the art of making inspired substitutions seems to have deserted him this season.

And that's worrying, because we may well be in a vicious circle of self-fulfilling prophesies - you can be sure that opponents will play with more confidence in the knowledge that Reading won't hold onto a lead, and at the same time the team's nerves will become more fraught every time they have a lead, and their confidence in their own ability to hold onto it will evaporate.

So something must happen to break this cycle of Reading losing leads. Because this "must-win-but-only-drew" match won't do much to quieten down the growing mutterings of discontent, and only a win over Norwich in next week's home match - a match made much more critical by the result - will do that.