The stuff of dreams turns into a Halloween nightmare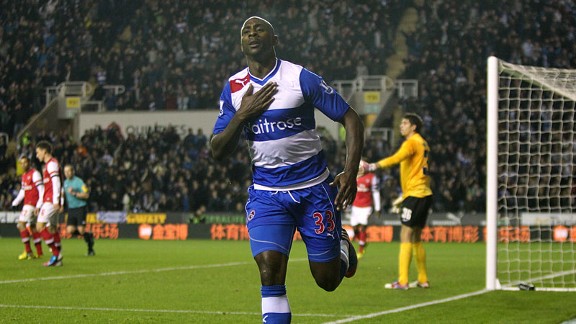 PA PhotosJason Roberts netted Reading's opener
Before this match the talk was about Danny Guthrie, apparently sent home from the training ground by Reading manager Brian McDermott at the tail end of last week. Although this was quite possibly a minor thing, with Guthrie on the managerial equivalent of the "naughty step", within a few days internet speculation had built this up into a ferment of speculation and theories.

As it happened, Guthrie wasn't named in the team for the Capital Cup match against Arsenal, but once this incredible - and ultimately heart-breaking - match got underway all talk of Guthrie was forgotten. For, in a glorious period of 40 minutes, the Royals ripped Arsenal to shreds, storming into a four goal lead whilst Arsenal hardly had a sniff on goal.

Arsenal, as is their wont in games like this, replaced much of their team with youngsters, but they still had the likes of Arshavin and Walcott up front, whilst Reading also gave chances to a number of players who have not been starting of late - Federici, Morrison, Gunter. And, as we saw in the last round of this competition, once they were away from the pressure cooker of the Premier League survival fight, Reading were able to relax and play a much more confident and expansive game.

Inspired by Jason Roberts up front, Reading's strength, desire, movement and sheer passion saw them run rings around Arsenal, and four goals in 25 minutes - from Roberts himself, Mikele Leigertwood, Noel Hunt and an own goal from Laurent Koscielny - had them completely in charge and Arsenal reeling. It was an incredible performance, which will be remembered for many years by everyone who saw it, and Loyal Royals were uncharacteristically jubilant when the half-time whistle went with the score at an incredible 4-1 to the Royals. In fact, even the one to Arsenal, a breakaway from Walcott right at the end of the first half, didn't dampen spirits.

The second half started in the same vein, with Reading taking the game to Arsenal, and they were incensed when an obvious push on Noel Hunt in the Arsenal box didn't yield the deserved penalty, and as the game went on it seemed to dawn on the Reading players what a victory of this magnitude would mean, and just how historic it would be for Reading to beat the team they lost to in all nine previous encounters. And, with Arsenal showing some improvement and this self-imposed pressure growing on Reading, the game swung more and more towards The Gunners.

Reading fans, who are always pessimistic having seen their term surrender countless leads over the year and especially this season feared the worst, and an unmarked header by Olivier Giroud, from an Arsenal corner after 63 minutes tightened the screw on top of the pressure cooker that little bit more. As the match went on, Arsenal exerted greater and greater control, but approaching the end of normal time Reading still had their 4-2 lead, but this advantage was halved in the 89th minute by Laurent Koscielny.

Time added-on came almost immediately, and Reading spent much of it trying to run down the four minutes as much as possible in the corners, but they were again furious when referee Kevin Friend failed to send off Koscielny, booked a few minutes earlier, for an obvious shirt-pull on Roberts just outside the Arsenal box.

The resulting free-kick was wasted, and Brian McDermott opted to send on Simon Church to replace Jason Roberts, who had been outstanding all night - no doubt in an effort to help run the clock down. But it had exactly the opposite effect, and in the time added-on to time added-on for that substitution, Theo Walcott scored his second to level the scores at 4-4.

An incredible, breathless 90 minutes of football, which went from sheer disbelief and utter exhilaration to total despair. As normal time went on Royals fans feared the worst, and what had been dreams turned into nightmares – all the jubilation of the first half drained away as the inevitable came to pass, and everyone knew that in extra time there would only be one winner.

Even though Reading did pull a fifth goal back after 116 minutes from Pogrebnyak to equalise Chamakh's 103rd minute goal, which gave Arsenal the lead for the first time, the faintest glimmer of hope for penalties was snuffed out with goals from Chamakh again and Walcott right at the death.

Perhaps if McDermott had not made that substitution, or if the referee had awarded that penalty or sent off Koscielny when he should have done then things might have been different. But it wasn't to be, and this was a gutting, heart-rending night to be a Reading supporter - being taken from the heights of happiness to the depths of desolation. But as bad as the result was, the worst thing for Royals fans was the sheer inevitability of it – we've seen our defence crumble under pressure so many times this season, and I think everyone there tonight knew – or at least feared – that this would end the way it did.

If Reading can harness the carefree, exhilarating and free-flowing attacking football they produced in the first half their season looks rosy, but their submission once the pressure started to mount augers exactly the opposite, and I fear for what tonight's experience will have done for their spirit and morale, at a time they'll need it most – before the crucial match with QPR at Loftus Road on Sunday.