The season starts here for Reading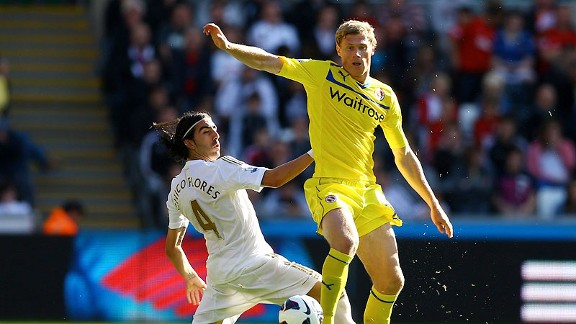 Paul Gilham/Getty ImagesPavel Pogrebnyak: Needs to hit form against his old team
This week Royals captain Jobi McAnuff called Reading's match against Fulham a "must-win" game. Whilst this might be over-stating things slightly, it's definitely true that Reading need to start winning soon or their lack of a place in next season's Premier League will look increasingly likely.

And Fulham are the first of a run of opponents where Reading will fancy their chances of picking up much-needed wins, as they come up against teams they are likely to be competing with to avoid relegation at the end of the season. Their next six matches include games against QPR, Norwich, Wigan and Aston Villa as well as Fulham, and it's a fair bet that at least some of these teams will be scrapping with Reading to avoid the drop come May. So it's not unreasonable to say that much of the shape of Reading's season will be decided by their performances between now at the start of December.

- Benchmark for progress at Fulham

As well as searching for their first win this season, Reading also have a score to settle with Fulham. Loyal Royals still harbour grudges about Fulham's miraculous escape from the jaws of relegation in 2008. All season Fulham had looked doomed, and as results stood at half time three-matches from the end of the season, with them 2-0 down at Manchester City, they were effectively relegated. But, by scoring three times in the last 20 minutes at the City of Manchester Stadium, Fulham lived to fight another day, and by winning their final two matches they edged out Reading, escaped relegation and forced the Royals down on goal difference. The fact that Fulham's final game was against Portsmouth, who demonstrably eased off just a week before their FA Cup Final appearance, hasn't helped Royals' sense of injustice - Fulham's winning goal came from an uncontested header from a corner, scored by 5' 9" Danny Murphy.

Since that close shave, though, Fulham have gone from strength to strength, and do look to be one of the better placed teams to ensure safety this season. They have shrewdly recruited a vastly experienced team, and with the likes of Brede Hangeland, Mark Schwarzer, Damien Duff, Kieran Richardson and, joining them this summer from Manchester United, Dimitar Berbatov. So they will be no pushovers by a long way.

The one player Reading supporters will be most looking forward to welcoming, though, will be Steve Sidwell, the much-loved midfield powerhouse of Reading's record-breaking 106 point Championship-winning season in 2006 and their 8th place Premier League finish the following season. At the end of that season, Sidwell left Reading - on good terms - and now plies his trade at Craven Cottage, but many still believe that Reading's failure to adequately replace Sidwell in central midfield was one of the biggest reasons for their relegation the next season. So there will be no animosity for Sidwell, who will be universally welcomed back by all.

In fact, there's still a Sidwell-shaped hole in Reading's midfield all these years later, and that hole got a bit bigger this week with news that Turkish midfield dynamo Jem Karacan is out of the team for seven weeks, following a knee injury sustained in a no-holds-barred challenge with Steven Gerrard at Liverpool last weekend. So Danny Guthrie is likely to start again for Royals, who will be hoping his skills bring a level of imagination and creativity that the team, and him, have so far failed to show this season.

Another player facing old opponents will be Pavel Pogrebnyak, almost certain to start up front for Reading. On loan at Fulham from Stuttgart last season, Pogrebnyak scored six goals in twelve Premier League performances, and seemed destined to sign permanently for Fulham, but he was snapped up by the Royals instead. This swoop was touted as an indication of the personal determination of new owner Anton Zingarevich to sign Pogrebnyak, and the "the Pog" has scored two goals in his seven Premier League games for Royals. But despite this, the jury is still out on him against Royals fans, with many unconvinced by his workrate, even though it's a tough job being a striker in a team that's creating so few chances. Royals will be hoping that Noel Hunt will have recovered enough from his heel injury to start alongside Pogrebnyak, as the energy and unorthodoxy he brings to the team upfront was much missed at Anfield.

But, in this match, it's all about the result, and in many ways the season starts here for Reading. They'll go out at 3pm on Saturday believing they have a realistic chance of picking up maximum points from Fulham and getting their season back on track - and a packed Madejski Stadium will be hoping that they put in a performance with enough passion and creativity to make this happen. But then again, Loyal Royals won't care too much about the performance as long as the result is right - a scrappy 1-0 win with a fluky own-goal will be enough, just as long as they do get that critical first win of the season.