Royals in search of Plan B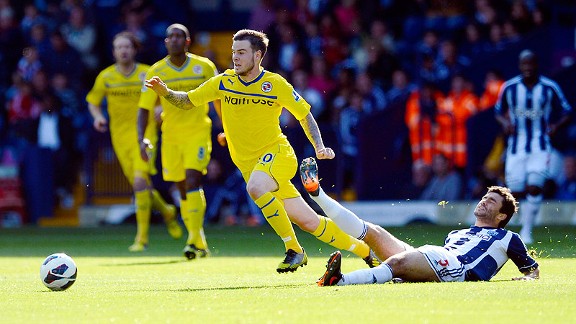 ADRIAN DENNIS/AFP/GettyImagesReading's mini-resurgence has given Royals fans hope, but how does slick summer Danny Guthrie figure into the team's style moving forward?
Reading FC match reports this season seem to have a common theme running through them -adequate, functional, lots of effort and organisation but a real lack of creativity. Many Loyal Royals see this as the team's biggest failing - and the one thing most likely to lead to relegation if it doesn't change soon.

But what can be done about this, and can Reading change their style of play to give them more chance of Premier League survival?

The style of play that served them so well in the Championship over the past few seasons is fairly straightforward, but very effective when played well. It's based on high energy, high tempo play, with the midfield constantly chasing and closing down, denying the opposition time and space to work with the ball.

When threatened, virtually the whole team gets back to defend, crowding out any opposition chances, and at every opportunity the ball is slipped out to the wings as quickly as possible. This is because, ever since the days of Steve Coppell, the team's main attacking channels have been down the wings where the team can call upon the trickery of Jobi McAnuff and the pace of Jimmy Kebe, with Wales international Hal Robson-Kanu and new signing Gareth McCleary also fighting for contention.

While the majority of Reading's goals over recent seasons have come from wing play - especially late in matches against tired defences - there are also outlets through the front two, who work the channels to pick up long balls and ideally hold the ball up until the midfield can join the attack.

That's the tried and tested game plan which proved very effective in the Championship. Defending in numbers allowed Reading to hold onto slender leads against the run of play (at Leeds and Brighton in particular last season), and the wingers proved to be equally effective against Championship defences.

In the same way, the hassling and energy in midfield proved its worth against opposing second tier midfields, many of which weren't overflowing with creative players.

This season Reading are finding out the hard way that this style of play is not well-suited to the Premier League. Effective as their style has been, it's very predictable and one-dimensional, and opposing managers seem to be able to set up teams to overcome it. It seems to be relatively easy to set-up an opposing defence so that the winger in possession is double-marked, and that's where things start to break down.

Reading's only other attacking outlet is long aerial balls punted forward, but competent Premier League central defenders can deal with those tactics all day long, and, strangely, the diminutive Noel Hunt has had more success with those balls than big Russian Pavel Pogrebnyak has.

The massed defence is all very well, but Reading are finding that the speed of attack of opposing teams this season is much faster than at the lower level, and they are frequently caught short of numbers at the back, as the midfield struggles to provide reinforcements in time after joining the attack.

So where can this Plan B come from? Well, Danny Guthrie was signed from Newcastle in the summer to provide some creativity through the middle, but this hasn't materialised so far. Reports differ on what the problem is, but either Guthrie, undoubtedly a highly skilled and very creative player is having trouble matching Reading's high-tempo playing style, or the rest of the team is not on the same wavelength as Guthrie for him to be able to provide the killer passes to them.

Sadly, this isn't a new problem for Reading. Loyal Royals will point to the parallels with Marek Matejovsky, signed at the start of Reading's last Premier League season. Although a different type of player, Matejovsky had similar qualities to Guthrie, and was hailed as a superb passer.

But in a similar way, things failed to gel when he played, and common cliché at the time was "He's too good for the other players around him." There's probably much more to it than that, but Reading never saw him make an effective contribution, and his lack of midfield work and an almost embarrassing inability to tackle saw him fail to cement a place as Reading slipped down the table and back to the Championship.

In fact, I can't think of a truly creative and established Reading central midfielder for many, many, years - apart from a long line of wingers, Royals midfield heroes seem to be hard-tackling box-to-box terriers rather than Hoddle-esque players who can unlock an opposing defence with a cultured pass into space.

Performances so far this season suggest that Reading desperately need to make changes to their style to accommodate Guthrie and to introduce a more creative edge to their game. Their current style of play seems to have been worked out by opposing managers already, and without introducing an extra creative spark that allows them a Plan B (and hopefully also Plans C, D and E) then the season looks bleak.

The big danger, though, is that trying to develop an alternative style of play might lead them to compromise what they are good at, predictable and one-dimensional as it may be, and that might end up being the worst of all worlds.

But that, of course, is where Brian McDermott and his coaching staff prove that they're worth the money they're paid.