Effort alone not enough at Anfield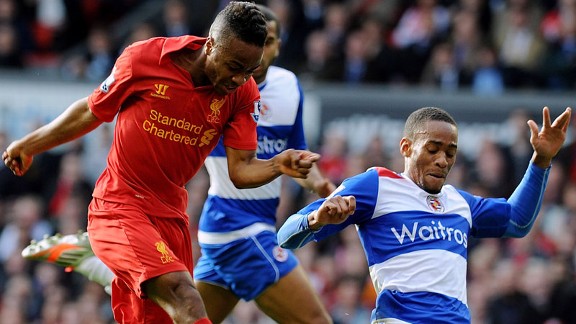 GettyImagesRaheem Sterling gave Liverpool the lead against Reading
Before the game, some Loyal Royals sighed when they saw the team sheet and realised that Noel Hunt wasn't in the team, presumably ruled out because of his injured heel. This meant Danny Guthrie returned to the side in midfield, where he was joined by Mikele Leigertwood. The sighs weren't down to the choice of players, though, but in realisation of the fact that it meant the Royals would be lining up in a 4-5-1 / 4-4-1-1 variant.

- Sterling work sees Reds past Royals
- Blog: Reds result finally follows performance

For many this is a backward step, as Reading are always at their most effective playing an orthodox 4-4-2, where they can get the ball out quickly to the wings and attack along the flanks. Brian McDermott could have made a straight swap of Hunt with Adam Le Fondre, who signed a new three year contract with the Royals this week, or start with Jason Roberts alongside the big Russian Pavel Pogrebnyak. But instead he opted to go with just the one up front - was this a lack of confidence in his strike options or was he giving Liverpool too much respect, and effectively saying he'd be happy with a draw?

Although Reading forced an early corner and had their own attacks, Liverpool had the best of the possession. But Shaun Cummings put in a sterling performance, several times cutting down runs by Suarez, at other times anticipating through balls to the Uruguayan and cutting them off before streaking forward down the right himself. And, when threatened, the Reading defence stuck to their well-tested method of getting back in numbers and crowding out opposition chances.

Reading suffered a big loss after 20 minutes when dynamic midfielder Jem Karacan hobbled off with what looked like a knee-problem, following a heavy 50/50 with Steven Gerrard. No question of any foul by Gerrard, though - it was a great sight to see two completely committed midfielders giving everything to win the ball, but unfortunately Karacan came off worst. Karacan was replaced by Garath McCleary, leaving Reading playing with three wingers, McCleary, McAnuff and Kebe.

Shortly after that, on 29 minutes, Liverpool got the crucial breakthrough. Following one of their own attacks, Reading found themselves short of numbers and exposed at the back, and a through-ball was delightfully picked up by Raheem Sterling who slid the ball past Alex McCarthy and in off the far post from just inside the area.

First blood to Brendan Rodgers in the battle of the past and current Reading managers, and that goal inspired Reading and they came more into the game, with some more meaningful attacks, but they never really looked like scoring - once again, although no-one had a poor game, the whole approach was sadly two-dimensional, predictable and uninspiring.

The second half was more of the same, with Reading huffing and puffing but not creating much, until, in the 53rd minute, a misunderstanding in the Liverpool defence meant McCleary suddenly found himself one-on-one with Liverpool 'keeper Brad Jones. But the chance was criminally wasted - Reading will get precious few clear-cut chances this season so they need to make the most of every one.

As the match went on though, Liverpool failed to extend their lead through a combination of their own inaccuracy and the heroics of Alex McCarthy, and as a result they seemed to grow more tired and anxious as the game went on. This did mean that Reading's effort and work-rate opened the game up more and they did get good possession closer to the Liverpool goal, but they failed to make the most of it.

Adam Le Fondre replaced Pogrebnyak after 74 minutes, a bit of a surprise move - Reading were closer to snatching an equaliser, but surely Le Fondre is best equipped to play as part of a front two, rather than as a lone striker? In fact, that's the formation the Royals went to after 80 minutes, with Roberts joining Le Fondre up front, at the expense of Guthrie who'd been largely ineffective all afternoon.

The change made no difference, though, and Liverpool continued to carve the Reading defence open with almost every attack, but still couldn't extend their score - Suarez in particular wasting a host of golden chances. It's worrying for Reading's prospects of survival this season just how easily they appear to be opened up at the back. This season they'll inevitably come up against a team that aren't as profligate up front as Liverpool today or Swansea last time out, and then they could well be on the receiving end of a cricket score.

Because the story of this game is the story of Reading's season so far - lots of effort, endeavour and organisation, but with no real end-result - and with a final score that looks much kinder to Reading on paper than anyone at the match thinks they deserved. And yet again no-one had a poor game - Shorey, Cumming and McCarthy in particular had pretty good games - but there was no spark, no creativity, no imagination. And at this level those are the sort of things that any team will have to conjure up from somewhere if they want to stand a chance of survival. Because organisation, effort and hard work alone just won't be enough at this level!