Roberts's T-shirt protest makes fascinating game even more interesting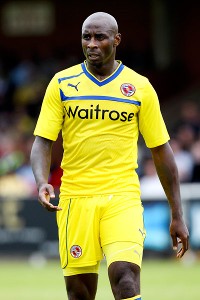 Ben Hoskins/Getty ImagesJason Roberts won't wear the "Kick It Out" T-shirt -- his way of making a statement that the problem runs much deeper.
There was plenty to look forward to in this match before Jason Roberts ignited a public row over T-shirts, but this row will only serve to put this match even more firmly in the public eye.

Let's start with the T-shirt question, and then we can move on to the football itself! Jason Roberts -- in with a good chance of starting for Reading at Anfield as Noel Hunt is doubtful with an injured heel -- has stated that he won't wear the "kick it out" T-shirt distributed by Kick Racism Out of Football as part of their annual anti-racism awareness week. Although Roberts has been roundly condemned for this by many in the game, including high-profile managers such as Sir Alex Ferguson, there are many who do have sympathy with Roberts' views. What he's saying, essentially, is that more is needed to eliminate racism in football than slogans on a T-shirt.
Instead, Roberts, who has consistently been an outspoken campaigner against racism and other forms of discrimination, wants to see campaigns that are much more effective and get to the roots of the problem.

Of course, this is very topical, with both Luis Suarez and John Terry serving bans for racist insults, and black players in the England Under-21 team suffering clear racist abuse at Serbia. So Roberts' actions will help focus even more attention on the whole question of racism in football this week. It's just unfortunate that not only do many commentators seemingly fail to grasp the essence of Roberts' arguments, but also that this will detract attention from a match with numerous sub-plots.

The first of these is the reunion of Reading with Brendan Rodgers. Rodgers was manager of Reading for six months in late 2009, being replaced by Brian McDermott in December that year when Rodgers was abruptly sacked. But before that, Rodgers had had a long and successful career with Reading, joining at the age of 18 before being forced to retire through injury two years later, and then working his way up the Royals' youth-development ladder until he was invited by Jose Mourinho to become Chelsea's youth team manager after 10 years – interestingly, 10 years during which he worked very closely with Brian McDermott. So despite his failure as manager, Rodgers is still considered by many Loyal Royals as "one of our own."

Of course, the last time McDermott and Rodgers met as opposing managers was at Wembley in May 2011 in the Championship play-off final. This was a classic match, where Swansea stormed into a 3-0 half-time lead, but Reading had a strong second half, throwing everything they had at Swansea and – heart-breakingly hitting the post having clawed the game back to 3-2. Swansea went on to win 4-2. So there's certainly a score to settle with Rodgers and his new team – even though Reading have never managed to beat Swansea when Rodgers was manager there.
The next point of interest is that Reading have a great record against Liverpool – and indeed in Liverpool -- over recent years. In their past match on Merseyside, Reading beat Everton in a thrilling FA Cup tie, the game's only goal coming from by Matt Mills, and before that their previous match in the city was against Liverpool, also in the FA Cup in January 2010. This was one of the most dramatic and stirring matches I can remember, and one of Reading's greatest and most memorable games of recent years.

Against a full-strength Liverpool team, Reading conceded a goal late in the first half, and despite huffing and puffing throughout the second half it looked like the Royals would be going out of the cup. But a foul on Shane Long right on the stroke of half-time gave Reading a penalty which Gylfi Sigurdsson dispatched clinically. After that it was all Reading, and an absolutely sublime Cruyff-turn and nutmeg by Brynjar Gunnarsson – playing at fullback but right by the Liverpool corner flag – allowed him to cross the ball straight onto Shane Long's head for a dramatic winner 10 minutes into extra-time. To come to Anfield and seize the game in such manner was dramatic and unforgettable – it's just a shame that snowy conditions deterred many Loyal Royals fans from travelling. Those who did will never forget that game.

And just to add a little extra spice to it, it was Reading's performance at Anfield that day that meant Brain McDermott's role was upgraded from caretaker to permanent status, and neither he nor the club have looked back since.

Loyal Royals will see a lot of parallels in Rodgers's spell at Liverpool with his time managing Reading – lots of confident talk, lots of pretty passing football, but not many goals and even fewer wins. Liverpool are unbeaten in the league at home this season – their worst start for many, many, decades – and Loyal Royals will remember that when Rodgers was manager at Reading he didn't get his first home league win that season until November 21. The hope is that Liverpool's lack of home wins will continue in the same way, and that Reading can repeat their heroics on Merseyside to leapfrog over Liverpool in the Premier League table.