Rangers Board showing signs of desperation
So Charles Green's role as consultant has been 'terminated' by the Rangers Board due to huge pressure from many shareholders and fans over his 'return'. In an explosive 2 1/2 weeks, the blunt Yorkshireman saw a disgruntled manager call him an 'embarrassment', the resignation of chairman Walter smith, the recognition that the 22 million pounds of IPO money has gone, and a group of opposing shareholders making a move for control.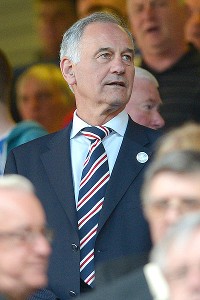 Mark Runnacles/Getty ImagesNo matter the role, Charles Green always seems to be in middle of the ongoing tempest at Rangers.
Whatever else can be said about Charles Green, he has never been boring and no one should be fooled that the removal of Green as a 'consultant' will mean he will not speak out to receive the highest selling price for his shareholding.

And from his point of view, even if you disagree with what he says, he has every right to say what he wants to protect his own interests. But as soon as Rangers started paying him, he should have kept his views private and professional. That he didn't, and yet CEO Craig Mather failed to act quickly and strongly, is worrying for many.

Whether true or not, Green is still seen as the power behind the throne, and the panic from the Rangers board over his inevitable dismissal suggests that if not completely accurate, it has an element of truth. Suspicion that he and his associates will still be working behind the scenes is partly why other shareholders supported Jim McColl's requisition to change those on the Board at an extraordinary general meeting.

This, however, will now only be discussed at the normal AGM and not an EGM, after an agreement between the parties. As a defensive statement on Rangers' website late on Thursday pointed out: "Rangers would have been spending well in excess of £150,000 to convene [an Extraordinary] General Meeting and then an Annual General Meeting almost back to back and it is categorically the case that it was only through the determination of the Board which made the requisitioners back down on this issue."

A noble attitude indeed, but when one of the reasons McColl and Co. are calling for a new Board is because £22m of the IPO money has been spent in only eight months, it's a strange sort of victory. They believe -- along with others like Dave King -- that the club has been so mismanaged it will not see out the season without further capital. (In other words, many believe another administration is inevitable unless a new board and new investment happens.)

So saving around £80,000 is a terrific cost-saving measure, but it will mean little if this Board have mismanaged finances and are struggling to change direction. This may not be true, but since audited accounts seem as far away as ever, then blind faith is in short supply among supporters.

The majority are keen to know what the money has been spent on. They no longer feel the Rangers Board is working properly and agree with Smith that it is 'dysfunctional'. Giving money and not knowing where it is going without audited accounts is no longer acceptable.

Yet even in the latest statement the Board seem to be asking for more money -- this time for a membership scheme. There is no doubt that is a brilliant idea in a properly run football club -- but when there is only £10m in the bank from two rounds of 35,000 season ticket sales and a £22m share issue only last December, then who will possibly throw more cash at Mather and finance director Brian Stockbridge?

It's a sign of weakness and desperation from a Board who know that the majority of stakeholders are against them. They need to quickly realise the gimmicks no longer work and the 'Rangersitis' era is over. It's time for professionals.