Glimpses of McCoist's team at Stranraer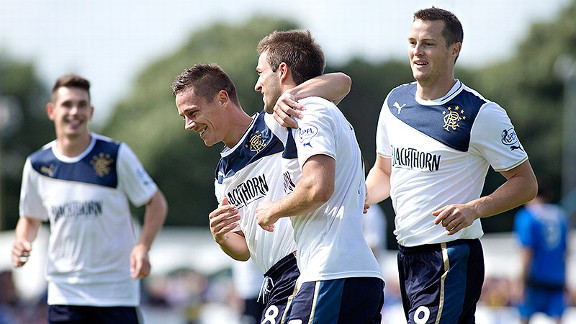 AP PhotoAndy Little celebrates his goal for Rangers, who had three in the first haf in Saturday's win at Stranraer.
The Rangers' 3-0 victory over Stranraer at Stair Park on Saturday could rightfully fall into the old cliche of a game of two halves. The Light Blues started strongly in the first and scored all their goals from Andy Little, Lewis Macleod and Lee McCulloch. In the second half they lowered the tempo, much to manager Ally McCoist's disgust.

After the match he expressed what many Rangers fans felt: "If I was playing today, I would have looked on that as an opportunity to batter a few goals in to get the goal tally up. I don't just mean the forwards, I mean the midfielders as well. We definitely have to be more clinical in our approach to scoring more goals and killing teams off. The best way to show the opposition respect is to continue to play in the same manner for the entire 90 minutes no matter what the score is and I didn't think we did that in the second half."

But let's not focus solely on the negatives, because the positives far outweighed any problems. With only two new players -- Jon Daly and Nicky Law -- starting as 'trialists' due to the transfer registration ban, the improvement in style of football compared to last season is considerable.

Whether it is solely due to Daly and Law or not, it gives a glimpse of what this team are capable of and why McCoist deserves to be judged on his own terms. Attacking with purpose, pace and sharp passing is something fans have been desperate to see for a year.

If the midfield class of Law, and the excellent link-up play of Daly, can make such a difference, what might it be like with the addition of the other new signings?

Credit must also go to youngster Kyle McAusland and Sebastien Faure, who have covered for Emilson Cribari and Chris Hegarty. The former has shown that although he has much to learn, he has potential. The Frenchman, who hasn't been the most charismatic of players, has shown why McCoist favoured him over Anestis Argyriou as the squad's utility man.

Overall it was a good away win, and if McCoist can impress on his team it's not acceptable to drop the tempo just because the game is won, then with a full squad available, fans might be in for a better footballing season on the pitch.

New Gers statement

Off the pitch, HMS Rangers continues to rock and toil in stormy waters, mostly from those fighting over the wheel. In an attack on the Daily Record newspaper, if not a thinly veiled call to boycott, the club stated lawyers were looking at certain websites and publications, which they described as having an 'anti-Rangers agenda'.

Many fans will be happy to see the club being proactive and finally defending the brand, but others will point out that talk is cheap and under Craig Whyte similar statements were announced to deflect attention from himself. With an extraordinary general meeting of shareholders coming up, is the board defending Rangers or themselves? Time will tell, but caution is advised. But then the problem with populism is that by its very nature it is popular, and those advising caution are always in the minority.