If Charles Green stays, will Craig Mather honourably resign?
Rangers chief executive Craig Mather has finally confirmed that he and his fellow directors will discuss Charles Green's position as a consultant next Tuesday.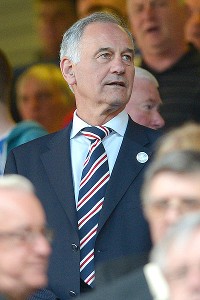 Mark Runnacles/Getty ImagesNo matter the role, Charles Green always seems to be in middle of the ongoing tempest at Rangers.
In a statement on the club website, Mather said he would "convene a Board meeting within seven days to discuss Charles Green's recent public statements. . . . It was necessary and vitally important that I spend time in London this week meeting institutional investors along with Finance Director Brian Stockbridge.

"Because of that and the unavailability of other directors, the Board meeting cannot be held until next week. This delay was unavoidable but the Board will sit next week when all the Directors will be in place. I believe it is important that we are all in the same room and not on conference calls because this is something we need to address face to face."

Now, it is good that he is keeping his word to discuss the position of someone the Rangers Supporters Trust, Rangers supporters Assembly, and Rangers Supporters Association described as 'entirely untenable'. But are supporters to honestly believe that the invention of the telephone, never mind video conferencing, has to be ignored? Does it really need every director in the same room to decide the future of someone whose behaviour Mather said was "morally and ethically wrong"?

Those are strong words, and in any normal organisation a chief executive would not need to think twice about letting a 'consultant' go who he himself had described in such terms.

Even if it was true that every director had to be in the same room to discuss Green's future, it shows how much power he wields behind the scenes at Ibrox. If a CEO can't make a basic business decision on a 'consultant' without setting it up like a G20 summit, then you can see why the former chairman Walter Smith described the board as 'dysfunctional'.

It would be unbelievable if after Green's public spat with manager Ally McCoist, Smith's resignation and the supporters making their views clear, if every board member had not already decided whether they support him or not.

And to add to the intrigue, The Herald recently pointed out that even after the CEO's condemnation, "Mr Green will join his replacement Craig Mather and finance director Brian Stockbridge, who have been in London since Monday, to garner support for the current board."

It has been suggested by some fans that waiting so long for the meeting is a delaying tactic so that Green, Mather and Stockbridge can ride out the storm and the Yorkshireman can be retained, or at least keep him in the official side of the club long enough to keep the shareholders onside.

This could be completely wrong but, in my opinion, it does seem strange the Rangers directors are acting so slowly over a decision that seems obvious. Whether the board always work this way, or are indeed strategising to protect themselves and Green, it does show why so many are complaining about how the club is being run.

Whatever happens, it seems that either Craig Mather or Charles Green will be gone within the next few weeks. Surely no reputable and independent-minded CEO could employ a consultant whose behaviour he has called "morally and ethically wrong"? The only recourse would seem to be an honourable resignation. So who will go, Green or Mather?