Rangers and England players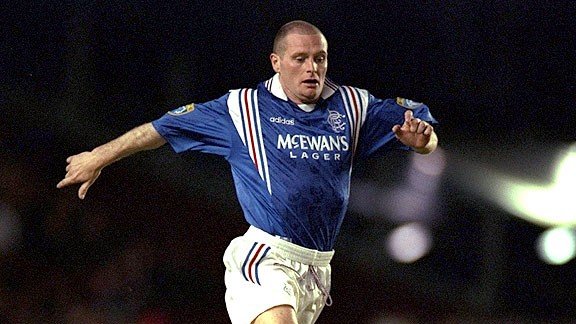 Stu Forster/Allsport/Getty ImagesEngland legend Paul Gascoigne spent nearly three years at Rangers.
With the 'Auld Enemy' clash between Scotland and England renewed this week, it might be a good time to look at some English players who have worn the Royal Blue jersey at Ibrox over the years. This is my own personal choice, and so it is not comprehensive.

- Brewin: A rivalry renewed

Mark Hateley

Big Mark deserves to go first since he is probably the one player who has remained a real fan, even after retiring. A big powerful centre-forward, he struck up a remarkable partnership with the current Rangers boss, Ally McCoist, and together they both terrorised defences. It's strange to remember that for the first few months of his stay in Glasgow, he was extremely disliked by the Gers support. But he soon won the fans around and is a legend to this day. Some of his goals can be seen here.

Rodney Wallace

A cracking little forward who scored plenty of goals in his three years at Ibrox. Although small, Wallace was brave and fast, and had a clinical finish. He was never capped at the full international level, but he was as important for Rangers in his time at the club as any top player. Here is a typical Wallace finish after a wonderful Rangers build-up.

Mark Falco

A surprising choice, and to be honest he's only here because he scored the first goal in one of Rangers' greatest, and possibly loudest, European nights against Dynamo Kiev. It wasn't even a great goal, but with my face pressed up against the old Enclosure fence I can still remember Viktor Chanov inexplicably hitting his own player with the ball, McCoist jabbing it to Falco, and the eternity it took to go into the net. The explosion of noise was unforgettable and it was a truly great Gers win. You can see it here.

Trevor Steven

A classy midfielder who had two spells at Ibrox, punctured with a move to French side Marseille. Capable of great passing and movement, Steven was a class above many of his contemporaries. Yet, it says a lot about Scottish football at that time that he was a good player among good players. Now, it would be almost impossible to see someone with his ability plying his trade north of the Border. Here is a Trevor Steven goal against Celtic.

Mark Walters

One of the greatest dribblers ever seen at Ibrox, and that is praise indeed considering the historic company. Great at beating a man and whipping in a deadly cross, he was also a tremendous finisher who left Ibrox all too soon. Loved by Rangers supporters, he received probably the worst racist abuse anyone in Scottish football history has had to endure before or since, when he was subject to bananas thrown at him by Hearts and Celtic fans. See here and here. Such things are incomprehensible now, but the horrific abuse he received has never been faced up to in Scotland. Here is Walters doing what he did best.

Paul Gascoigne

Gazza might be a troubled individual off the field, and in retirement, but as a footballer he was loved by Rangers and England fans. His vision, passing and eerie ability to drift past an opponent was world-class. He played and scored in so many big Rangers games that he could be the subject of a couple of articles on his own, but if we only take the Scotland versus England game, he will be forever remembered for this great goal. If you like shortbread, tartan and Braveheart, then look away now. I don't like any of those things so I've watched it a few times and it's a still a great goal.