Rangers' performance proves McCoist needs more time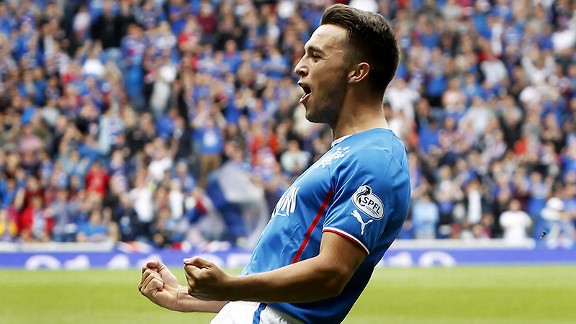 AP Photo/Danny LawsonChris Hegarty scored one of Rangers' four goals in their win over Brechin City at Ibrox.
A strange thing happened at Ibrox on Saturday afternoon. Instead of worrying over balance sheets or football politics, an entertaining game of football broke out on the pitch. A 4-1 win over Brechin City, with goals from Chris Hegarty, Nicky Law, Ian Black and Dean Shiels, kick-started 'stage 2 of the journey' back to the top.

- Match report: Rangers 4-1 Brechin City

With the transfer registration ban still in effect until the 1st of September, the Light Blues could only field two of the new signings as trialists. As expected they were Englishman Nicky Law and Irishman Jon Daly.

Law was simply superb. He looked a class above everyone else on the field and bossed the game from the centre of midfield. It's no wonder he was voted into the 'SPL team of the year' last season, and it is a major coup for the Ibrox club that he is now playing in the third-tier. His goal summed up his quality, as he drifted past two men and from outside the box drilled a low shot past an inspired Graeme Smith in the Brechin goal.

For Daly, it wasn't as spectacular a debut, but not because he played badly. He won headers and linked up well, and most importantly, was on the end of many chances. It was just a pity that on a day he could have had a hat-trick, luck wasn't on his side and the 45,000 Rangers fans who were willing him to score wasn't enough.

It's amazing the difference these two additions made to a team that has struggled to play good football for months. This is why Ally McCoist has to be judged on what his team does after the transfer registration ban ends and not before.

The Rangers boss deserves criticism -- and this page has consistently done so for a year over tactics and fitness levels -- but the so-called 'worst Rangers team' of last season would be the same 'worst team' if Jose Mourhino was in charge.

Whether it is a genuine competition for places, a proper pre-season or just the case of better players helping each other, some of the performances elsewhere also gave hope for the future. The much-maligned Ian Black had his best ever game for Rangers, and looked like the man who was called up to the Scottish international side, and not the petulant and lazy player the support saw for much of the season.

And on the subject of Scotland, Lee Wallace should be in the latest squad. His pace, power and attacking was as good as it has ever been, and the way he comes towards defences at angles and with speed is bettered by few others in the Scottish game. If he played the same way in any other league, Gordon Strachan would pick him.

Overall, it was a good performance from the Light Blues. Slick passing, movement and a high tempo for sixty minutes made the fans happy -- an emotion almost surprising after the events of the last 18 months. (Yes, Rangers fans, football is supposed to be enjoyable!)

The only major negative was the team, once again, switching off and allowing the opposition -- who before that couldn't compete in any area -- to come back strongly. McCoist needs to look at why that happens and stamp it out.

At least he is aware of this and speaking after the game said, "There was a 10-minute period in the game where it was 2-1 and we were all wondering what was going to happen. Looking ahead, we've maybe got to be more disciplined and stay a bit more compact than we were. We need to be a bit more patient and learn to ride the storm a bit because we know we'll be under pressure at some point in a game against anyone."

If Rangers can stop silly mistakes, and with players like Wallace, Macleod, Black, Mohsni, Law, Templeton, Daly and Clark on form, they might just have the core of a good side. Saturday's performance might be a small step, but at least it was a forward step.