Craig Mather needs to silence Charles Green
Regardless what has happened in the past, and whether you want a new board of directors or the status quo, Rangers chief executive Craig Mather should stop Charles Green from speaking to the media about the club.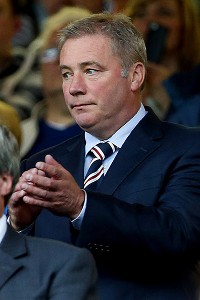 Ian MacNicol/Getty ImagesRangers manager Ally McCoist can't be blamed for the worried look he had during Tuesday's friendly with Newcastle given 'consultant' Charles Green's recent comments.
As a private shareholder and individual, Green has every right to say what he wants about any Light Blues subject -- but not while Rangers FC are paying him.

In only one week, the return of the Yorkshireman as a 'consultant' has resulted in an upset manager and team, Walter Smith resigning as chairman and a divided fanbase. It doesn't matter if you support him and his associates such as Imran Ahmad -- he should not be allowed to cause chaos on the football side.

There was always an element of class they way Rangers dealt with problems in the hotseat. The club fully backed managers and if not, they found a way out that showed integrity. Other clubs made secret deals in car parks and used the media to belittle their managers so they would go, but not the Gers.

Mather should not stand for it, and should tell Green that as long as he is being paid by the club, he does his job and stays out of the spotlight. Instead, after manager Ally McCoist was furious that Green's first action as a consultant was to publicly discuss him and his team in a newspaper, Mather released a statement which said:

"Everyone is entitled to an opinion, including Charles Green. But what I want to make clear is this: Backing the manager and the playing staff in their quest to restore Rangers' fortunes is critical to our ambitions."

No Mr. Mather, everyone is not entitled to an opinion when you get paid by Rangers. The whole point of the organisation surrounding the football team is to support it, not make it unhappy.

Even if Green was right about the team. Even if McCoist is the worst manager ever, while he is the Rangers boss he should get the full support of everyone on the payroll. By not doing what any CEO in those circumstances would do, Mather looked weak.

To be fair, Mather is a decent man trying his best. In his resignation statement Smith went out of his way to point out that:

"Craig Mather, as I have said before is doing a good job. It is unfortunate that this has happened but when change does come I hope he'll be allowed to continue the job he has started."

The CEO also went out of his way to stand, literally, shoulder-to-shoulder with McCoist in the directors box before and during the Newcastle friendly on Tuesday. That is deliberate symbolism, but the club need more than body language.

Whether it is true or not, Charles Green and his associates, look as if they run the club, rather than Mather. It is absurd that a paid 'consultant' is running from interview to interview, talking about Rangers' interests and football team, while the CEO is too scared to ask for professionalism.

In the words of Green on Tuesday, Rangers are "an absolute mess" and he agreed with Smith that the "board is completely dysfunctional, they couldn't agree on anything. That never happened in my time because I ran the company and I made the decisions. There is no decisions being made in that board recently."

Whether intentional or not, that is a slight on Mather, and his first job now is to agree with Green. He must take control and silence every Rangers employee, including Green, on talking about the Rangers manager and team in an unprofessional and disruptive way.

As for McCoist, he needs to be fully judged without restrictions, bans or administration in the way. It didn't matter who was in charge last season, the team would still be near the worst team ever at Ibrox. You cannot blame the manager for that.

He can be blamed for poor tactics over the last year and, in my opinion, deserves to be under pressure. But even if you want him sacked, no manager who sits in that famous chair should ever be subjected to the public criticism of his team, or crass discussions about his wages, from those being paid by the club.