Rangers fans support Walter Smith and want changes at Ibrox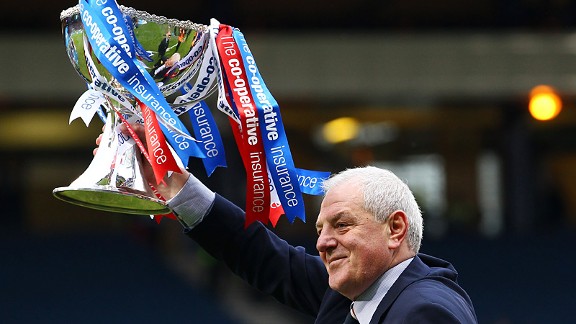 Julian Finney/Getty ImagesLegendary former manager Walter Smith has stepped down as Rangers Chairman.
Walter Smith has stepped down as Rangers Chairman in a show of disgust at the direction the club is being taken. There is little doubt Smith has been concerned with the return of Charles Green, and other board decisions, and felt his position was untenable.

In a statement to explain his resignation, he said the current board "could rarely find consensus and agreement [and] has created a highly-dysfunctional environment which has not been good for the Club." Among other things, he is "now imploring everyone to back these proposed changes so that much-needed stability and a level of integrity can be restored to the Ibrox Boardroom."

Those proposed changes, backed by Jim McColl, aim to see former director Paul Murray and former PriceWaterhouseCoopers Chairman Frank Blin replace Craig Mather, Brian Stockbridge and Bryan Smart on the board of directors.

Make no mistake, Smith is pointing out -- as much as he was legally allowed to -- that a positive future for Rangers Football Club could be lost if changes are not made. When he says the club should be "for the benefit of the fans and not an individual or any associates", he is not being specific, but there are few who will not know who he means or what he is saying.

And although it's impossible to ever know for sure, it seems the vast majority of fans are behind Smith and the McColl bid. There is a core minority who would follow Green and the club into oblivion, but the majority seem to have woken from their slumber and are actively supporting Smith.

Of course, with Green returning, the manager might find himself with the £10m he was promised, or the amazing tie-up with the Dallas Cowboys will come through and everyone will be happy, but it's more likely none of that will happen. Especially when the Texans have no knowledge of such a link and Green has now reinvented himself as a prudent cost-cutter.

On the football side a huge question mark now hangs over the future of Ally McCoist. If Green and investors close to him have ultimate control, then the recent comments from the Rangers manager that Green was an 'embarrassment' will see him isolated. Would the board sack McCoist? It's unlikely and McCoist will not walk, but 'Super Ally' needs the support of the fans now more than ever.

He has made bad mistakes as a manager and these pages have spent a year utterly bemused by his tactics and openly saying so, but it has also made clear he kept the club together during 2012, and he might have to do so again. Even if he is ultimately not the man for the job, there is a bigger issue to be resolved first and McCoist is a crucial participant.

If the majority of supporters were stunned at the management of Sir David Murray and Craig Whyte and now wish they could have acted sooner, then they have no excuses now. None other than Walter Smith has spoken and few can say they weren't warned.

This is a battle for the soul of the football club at best, and a fight for survival at worst. The world of finances and businessmen will make the majority of decisions, but the voice of the fans is more important than you think. This is why the next few matches at Ibrox might be talked about for years to come.