Loss to Forfar, Green comments equal big trouble for McCoist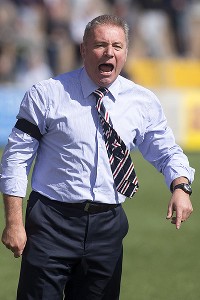 Getty ImagesIt was an unpleasant day on and off the pitch for Rangers manager Ally McCoist.
Rangers' 2-1 loss to Forfar in the first round of the League Cup on Saturday is another horrendous result that seems to regularly sneak up on Ally McCoist's teams and there is not much more the fans can take.

It doesn't matter if there are board room troubles. It's largely irrelevant if the transfer registration ban means new signings can't play -- the team on the park should still be good enough to beat Forfar over 120 minutes.

It has put serious pressure on McCoist before a ball is kicked in the Second Division and he now can't afford another bad result. With Walter Smith as chairman, there is no chance of an open board plot to sack him, but even Smith could not resist the fans if they turn on the manager.

We are not at that stage just yet, but the frustration is certainly building within a support demoralised by a club that can't seem to get its act together at any level -- even though they are doing their bit in 'the journey'.

The result would be bad for a Gers boss at any stage of the season, but considering Charles Green's words in The Scottish Sun that "he knows he has to win the league and, in my opinion, has to win a cup as well. If he doesn't do that, he has a problem," means it couldn't be any worse for McCoist.

That Green had just returned to the club as a consultant the day before, and the first thing he does is consult a delighted tabloid on the "worst Rangers team there had ever been" is astonishing.

But instead of looking careless at best, or a troublemaker at worst, Green looks like a prophet to some Rangers fans and the 'problem' discussed becomes a fact much sooner than even the Yorkshireman would have believed possible.

And to top it all off, McCoist, who was rightly enraged at the interview with the Sun, criticised Green in the press conference and his words will be seen as an excuse. There may even be a touch of that -- which is wrong – but for the most part Ally is saying what many within Rangers and the support now feel. He said:

"The self-acclaimed, straight-talking Yorkshireman has again let himself down. His contempt and total lack of respect for my players, for our football club, for our support and Scottish football in general is appalling -- and he is an embarrassment. It's just more hot air that we've come to expect from Charles.

"I've got to be careful because Forfar deserved their win and well done to Dick Campbell and his players. But our players picked up the newspaper at breakfast to be reminded they're the worst team in Rangers' history. I'll tell you, that would be bad luck -- to have the worst Rangers team in history and the worst chief executive in history at the same time. That's downright bad luck.

"Instead of concentrating on the match, their minds are elsewhere and they're worrying about their jobs. Because, let's face it, if he's said we don't win a cup and we go, then some of the players would be under threat too. As team-talks go, I don't think it was one of Charles' best."

McCoist should have been more savvy and waited a week to speak about Green's behaviour, but there is little doubt his points are largely accurate. It might be time for people like McCoist and Walter Smith -- people who genuinely love the club -- to speak up before it is too late.

There is an old saying that no man is bigger than the club, but the reality is that, for the moment, Charles Green is now bigger than Rangers. That is not an insult to the team or fans. They will hopefully still be here when Green is forgotten, but when a 'consultant' can talk negatively about the manager and his side in newspapers for personal reasons, and do it without consequence, then the club has not yet left its subservience to the whims of one individual.