The Lee McCulloch conundrum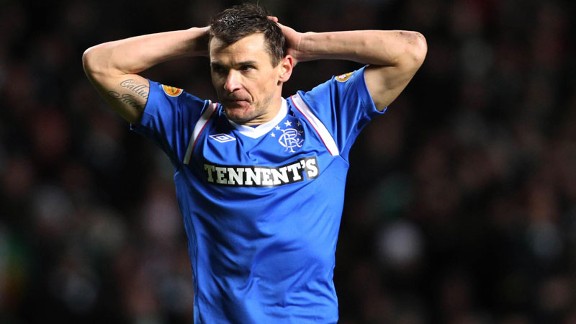 PA PhotosIt will be tough to squeeze Rangers skipper Lee McCulloch into the team.
With the transfer registration ban still in effect until the end of August, Ally McCoist cannot play his full squad, so judging how well they play individually or as part of a team is an issue. Keeping fit is also a problem so it was a wise decision to fix up a few friendlies in between league and cup matches.

The 1-1 draw with Dundee on Wednesday evening was one of them, and it was the Honduran international Arnold Peralta who came off best for Rangers with a good performance and fantastic goal from a 20-yard free-kick.

Looking through the team that played at Dens Park, it's possible to see the core of the side that will be playing in September. Many of the decisions will take care of themselves, but there was one person missing who will prove more of a conundrum – Lee McCulloch.

The good thing about 'Jig' is that he can play anywhere through the middle, from back to front. Players will get suspended or injured, and at League One level he will be good enough to slot in when required.

But as Rangers captain, and one of the highest profile and highest paid players at Ibrox, that might not be good enough for the club or Lee himself.

It's highly unlikely he will start before Jon Daly, Nicky Clark or Andy Little as a striker or go ahead of Lewis Macleod, Ian Black, Kyle Hutton, Arnold Peralta or Nicky Law in midfield. That just leaves the centre of defence.

If Belil Mohsni is considered an automatic start, then McCulloch would have to go before Emilson Cribari, Ross Perry, Sebastien Faure, Chris Hegarty, Kyle McAusland and Luca Gasparotto. While the latter two might be understandable since they are young and still learning, it would show that none of the other centre-backs should be in the squad if they are not better at their own position than a converted attacking midfielder.

And let's not forget that Rangers are still after Bosnian centre-half Boris Pandza. Not only would his transfer almost certainly close the door on a Lee McCulloch start, but it would question a Rangers squad that is bloated to bursting point.

To be fair on Rangers, they do know this. They are desperate to sell some of the players mentioned here, as well as Kal Naismith and Anestis Argyriou, and many deals will be done in the latter stages of the transfer window. But equally they could be left with every one of them.

It will be interesting to see what McCoist does with all those players and if the Rangers manager fits the club captain into the team, or leaves him out. Regardless who it is, if he isn't the best player for a particular position McCoist will need to be ruthless.

But McCulloch is aware of this. He said: "I don't think anyone is guaranteed a place in this side and certainly not me. I'll be expected to fight for my place. I'm not expecting to start games, I'll need to prove in pre-season that I'm worthy to start. If I'm not in the team then I'll just need to try and get in the team. I'm no different to anyone else."

Those are classy words from a top player and someone who represents the club to the best of his ability, both on and off the field. And although on paper it is difficult to see where he will fit in after the transfer ban is lifted, football is not played on paper and if anyone can prove the doubters wrong it is Lee McCulloch.