Has McCoist learned anything from pre-season?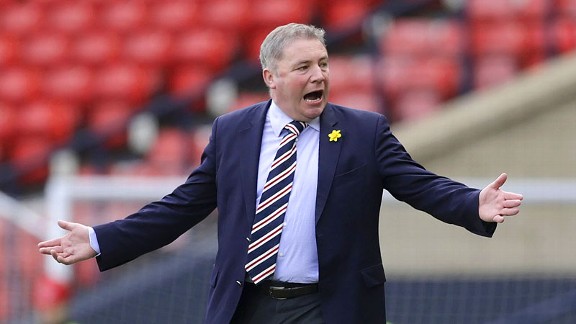 AP PhotoRangers boss Ally McCoist still has some work to do in order to shore up his team's defense.
Now that Rangers have finished pre-season, what have we learned about the team? These matches can only tell you so much because the games are never completely serious, and the main point is to build fitness. It's even more difficult to assess the Light Blues this year because Ally McCoist has the task of getting every player in his squad fit, yet he can't play who he wants until the 1st of September when the transfer registration ban ends. With those caveats in mind, there are still a few areas that can be discussed.

Rangers Defence

One of the biggest positives in pre-season has been five clean-sheets in six matches -- the only goal against coming in a 1-0 defeat to Sheffield Wednesday. It seems that McCoist's preferred back four, and the one that worked best, will be Richard Foster, Emilson Cribari, Belil Mohsni and Lee Wallace.

But that assumes Rangers can sign Mohsni and it's not certain this will happen, nor can Cribari be certain of a game if the Gers also grab Boris Pandza. And without at least one (or both) of them, the defence is still the biggest weakness. Only giving up one goal is great, but you have to remember the opposition was weak. The central defence was the one area I assumed would be filled first, and it still shocks me that Cribari, Ross Perry, Luca Gasparotto, Sebastien Faure, Chris Hegarty and even Lee McCulloch are on the books while the Rangers boss is searching for more players in that position.

Against Sheffield Wednesday, the defence was Faure, McCulloch, Cribari and Wallace. This will probably be the line-up for Sunday's Ramsdens Cup match against Albion Rovers, and by all accounts it didn't cover itself in glory, although it should be adequate for a month until all signings can play. After that, there should be two new centre-backs and a few squad defenders gone. If there isn't, it will be disappointing considering Rangers had months to prepare.

Jon Daly

Already the big striker has taken the captain's armband when McCulloch was not available, and it shows the respect the Dubliner has at Ibrox. The one thing Rangers lack in numbers is leadership qualities, and it's great to see Daly taking up the challenge. On the playing side, he's already managed to hit the back of the net with a tremendous goal against FC Emmen in the Netherlands. So far, so good.

Lewis Macleod

No one, including me, can talk highly enough of this young player. One of the best things Rangers did last season was sign the 19-year-old midfielder on a five-year deal. If he progresses the way he has in the last 12 months, he will probably be sold to a good English Premiership side for a few (and maybe much more than a few) million pounds before the end of his contract.

It was therefore worrying that he picked up a bad injury later in the season and it's with relief and delight that he looks better than ever in pre-season. He's getting forward a lot more than he did before and that has resulted in three goals in six matches. He looks very sharp and his return is a huge positive for the Gers.

Two strikers

It's highly unlikely that the team will play one up-front again this season -- except in rare circumstances. This has been emphasised by McCoist verbally, and with his formations during the last six matches. This is great news for the support because it will be a more attacking style, rather than the stuffy and boring formation of last season.

It will be great for Andy Little, as the Northern Irishman can score, but he needs a partner to help him create chances. With Nicky Clark's games rationed until September, I expect goals aplenty from him and the aforementioned Daly.

David Templeton has nerves of steel

When lightning hit very close to the players in training, nearly all react with understandable fear. Only one player, David 'Dirty Harry' Templeton, just smiles. Click here and enjoy!