Could Rangers beat Celtic?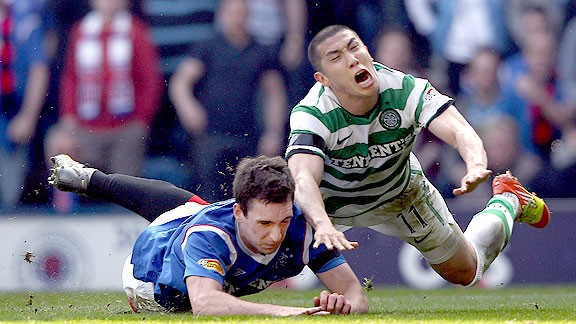 Ian Walton/Getty ImagesRangers and Celtic last played the Old Firm rivalry in April 2012.
In my recent blog 'Can Rangers win a Cup this season?', I suggested that "on their day this Rangers team is still capable of beating any Scottish team at Ibrox, including Celtic, (although this is not to say Celtic aren't a far better side, because they are)."

There was an interesting social media response to that short passage from many Gers fans. They nearly all agreed -- as they should -- that Celtic would be clear favourites, but half fancied their chances at Ibrox, whereas the other half thought their team would be destroyed wherever they played.

There has to be realism, and it's a good thing that the majority of the supporters realise that defeating Celtic would be a huge task, but it seems unnecessarily negative to suggest it couldn't happen -- especially at Ibrox.

According to the Daily Record, Ally McCoist touched on the same subject and said:

"I miss the Old Firm game as it was always an unbelievable occasion. You love them. You hate them. You miss them. But if we played Celtic at the moment we'd start as second favourites. If we have to play Celtic then bring it on, but I'm not sure we're ready for that yet. It would never scare me, far from it. We're getting ever nearer to having them back with us but we'll be more ready to face Celtic in another couple of years."

It seems that the Rangers manager is in the more cautious camp, and it might have been better to say he would "love to face Celtic but we would be second favourites" rather than saying his team isn't ready. It won't make a difference to whether they play each other or not. At least the more positive attitude would help if they did.

Let's reiterate: Celtic at the moment are a better football team than Rangers, but don't forget St Johnstone, Kilmarnock, Inverness Caley Thistle, Hibernian, Motherwell, Ross County and St Mirren all defeated Celtic last season.

Football isn't as simple as saying that Rangers can beat some of those clubs, so they can beat Celtic, but the Rangers-Celtic game has its own dynamics and some of those extra factors help the Gers, not hinder.

A full Ibrox Stadium, with the frustration and passion of the last two years waiting to be expressed, would be an atmosphere greater than most, if not all, previous Glasgow Derbies. It would reach the heights of European nights against Dynamo Kiev, Leeds United or Parma (where American Claudio Reyna scored one of my favourite-ever goals) and that alone would be a huge benefit.

If they feel less positive in an Ibrox cauldron than a St Mirren team who knocked the Parkhead side out of the League Cup at Hampden, then the necessity of realism has been replaced by defeatism.

If the current wage bill is (supposedly) the second-highest in Scotland, then the very least the support should expect is a performance that matches some of the top-division teams.

And they would. I don't think players such as Nicky Law, Jon Daly, Ian Black, Lee Wallace, Cammy Bell, David Templeton and Dean Shiels would be quaking in their boots at playing a team they have faced countless times before. I don't believe Ally McCoist would be terrified, either.

Celtic are Scotland's best team now, and will stay that way for a few years to come. But unbeatable? No! They are good, but not that good and have peaked, while the Rangers are on the way up to meet them.