Should McCoist have been criticised for last season's performances?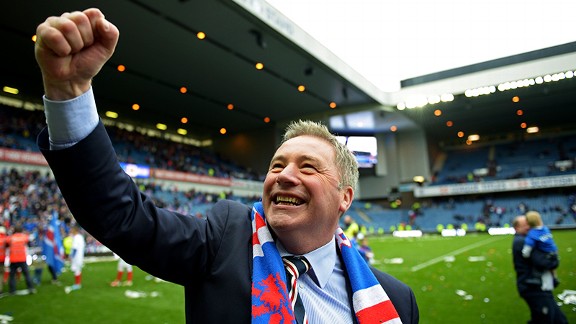 Jeff J Mitchell/Getty ImagesRangers supporters are expecting Ally McCoist to bring home another league title this season.
One of the certainties of the Rangers support is their love for Ally McCoist. As a legendary player who couldn't stop scoring and as a man who kept the club together during the darkest days of 2012, 'Super Ally' may go down as arguably the most important man in the Gers' modern-day history.

In management terms though, it has been an altogether less prestigious start. Few managers anywhere in the world, never mind at Ibrox, have had to deal with the pressures McCoist has been under, and few would emerge with the same dignity and good humour.

Almost a full squad leaving, transfer registration bans and no pre-season training -- not forgetting dropping three league divisions -- is an almost unbearable sequence of events. It is in that context McCoist and his team should be judged at the start of the last campaign.

So was the criticism of the Gers gaffer last season wrong? The answer is a yes... and no. This may seem like a coward's response, but it's not.

Was it unfair to get on his back after the first few away draws in the league in August and September? Looking back, the complaints from fans, including myself, about those earlier games were unwarranted.

He was dealing with a club only a few weeks out of intensive care, and playing pretty football wasn't the main focus. The Light Blues needed to ensure promotion to survive and grinding out results to ensure victory (or draws) was more desirable than playing total football and losing. In late November and December his team started on a winning streak and played some nice stuff, so up to that point McCoist did exceptionally well.

After that, however, when Rangers were running away with the title, was when his team should have loosened up a bit. When the initial shock and surprise of playing in the fourth-tier of the Scottish game left and the confidence returned, it was then that his side should have given up their percentage game. The support should have been entertained -- let's not forget this is a form of entertainment -- and the team should have started building a foundation for the future.

In other words, the first half of the season was survival and McCoist was correct to play a more utilitarian style. It was about protecting what you have, as Rangers were still on the cliff's edge and, in hindsight, supporters moaning about how the team played was silly.

It was during the second-half of the season when complaints were justified. This is why it was a yes and no answer. At the turn of the New Year, the squad didn't look as fit or interested as they should, and even when winning by a few goals or holding a league gap of double-figures, they still kept the slow and predictable long-ball game. That was when the fans deserved better.

But the past is the past; so what about next season? 2013-2014 is when McCoist will be judged properly and with no excuses. His signings have been good up to now, and he has spoken of playing a more attractive and attacking football.

Some still say his squad is far too large, but that is not his problem. It is for Craig Mather and Brian Stockbridge on the board to ensure financial prudence. Winning the league will be as much a necessity now as last time, and there is huge pressure on the management team to succeed. McCoist will utilize every weapon available to do that.

McCoist will go on to win another title, but he should not underestimate the strong feelings from the support on the desirability of enjoyable football. As much as they will back him should they see progress, they will not accept another season of grinding victories for its own sake.