Which players will be leaving Ibrox?
It seems Rangers players Kal Naismith and Anestis Argyriou have been told they are no longer required at Ibrox. Football is a ruthless game but it seems a fair enough decision from Ally McCoist -- although it would seem strange they can be surplus while others on higher wages who have been ineffective can stay around.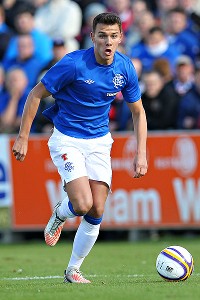 Ian MacNicol/Getty ImagesKal Naismith is leading the summer exodus from Ibrox.
For Naismith, the question has to be asked why he was given a two-year contract in February 2013? Was it good strategic planning to ensure a transfer fee, or did McCoist plan to keep him but changed his mind? Whatever the reason, the big striker is now effectively on trial with English side Accrington Stanley and scored in his first game last weekend.

So who else might go before the season starts? Here are four players who might join the above two out the Ibrox door either this transfer window or the next at the latest. Remember, this is an attempt to get into the mind of McCoist and not my own personal choice.

Emilson Cribari and Ross Perry: These two will be discussed together. Both have failed to impress the fans at centre-back, and the Rangers manager has made no secret of his disappointment at the weakness of the position.

If Rangers sign McCoist's targets in Boris Pandza and Belil Mohsni, then that would be seven central defenders if we include Chris Hegarty, Lee McCulloch and Luca Gasparotto. Eight if Sebastien Faure stays. That is far too much and I believe the Rangers management would not fight too hard to keep Perry and Cribari if they get the new players they desire.

Kyle Hutton: On his game, Hutton is a very good player who is strong in the tackle and can pass a lovely ball. Potentially he could be a tremendous asset, but last year he too often looked sluggish and failed to impress.

He has, however, worked very hard in preseason and said as much recently admitting that "this is probably the fittest I've felt in a preseason before." Yet Rangers have a very strong midfield and it is hard to see where he would fit. I would keep him if resources were infinite, but the Gers boss doesn't have that luxury. He has to cut his squad and Hutton may be the biggest casualty.

Sebastien Faure: The Frenchman is not a bad player, but is he any better than Argyriou? Does anyone honestly believe he is a better defender or midfielder than any other in the squad?

Maybe you see it differently, but he doesn't seem to have any outstanding qualities that would necessitate another year in the Light Blue jersey. Like the Greek Argyriou, he was adequate in a season when the Gers needed to fill the squad. Now? It would be surprising to see him in the first team and I think McCoist knows that.

Whatever the Rangers manager does, he surely must cut his squad as it is too large. Naismith and Argyrious are just the start of the pruning.