Rangers asking the right questions
In a terrific Rangers TV interview with Jim Traynor, the club's director of communications, Rangers manager Ally McCoist discussed the successes from last season, and laid out his plans for next season.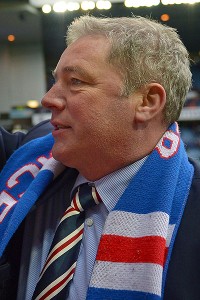 Jeff J Mitchell/Getty ImagesAlly McCoist still faces high expectations as Rangers prepare to enter the Second Division.
Interestingly, he was also asked about the criticism of his team's playing style. This was, and is, a huge topic for Light Blues fans. There is a common feeling that the one up-front and seemingly negative tactics are hindering the younger players and making it hard to watch as a spectator.

The manager defended the side which won the Third Division, pointed out he didn't get a preseason and was left with a squad which was more foisted on him than his choice. He mentioned how delighted he is with the new signings and that his squad are looking focused in a way not possible last year.

McCoist, however, did accept that some performances were below par and said he didn't have two real forwards to play last year, and all but suggested he will rectify that by playing Jon Daly and Nicky Clark as a front pairing in the Second Division.

He pointed out that as a Rangers manager he must win now, and it's doubtful how much long-term planning he can do. This is both true and worrying.

Of course, he must win every game he can and ensure that he keeps progressing through the leagues, but surely there should be someone at the club who can take a wider football objective and help him in that regard?

It's in this area the Rangers manager needs more help. If he could get a director of Football that he trusts, then it could be a positive step.

It might be another wage packet when the club are trying to cut costs, but allowing someone to deal with the long-term administrative planning of the football side could be crucial.

When the Rangers boss was asked about his footballing philosophy and what kind of Rangers he wants to give the fans, McCoist said he wants to entertain them, but his main focus was on winning.

It was a question that could have been answered better since Rangers should always aim to win, anyway. When pushed and asked for his vision for the club and five-year plan he mentioned being in the Champions League.

Again, this isn't really what the question is looking for in reply. It should be a given that Rangers should be aiming for league wins and Champions Leagues -- it's what you do to get there that the supporters want to learn about.

What are your tactics? Will you play a passing or more-direct form of football? How many young players do you aim to bring through, and so on.

It reminded me of something the Formula One champion Sebastian Vettel said at the beginning of the racing year. He mentioned that winning is about remembering the details that you must take to get there. Being the best is a result of focusing on individual actions in the right order. A general will to win is not enough.

All will be revealed next season and it's surely a good thing for the support that Rangers are asking the right questions. Ally McCoist is not hiding and he knows his team can play better. After listening to his determined manner, I suspect they will.