Rangers fans passing their toughest test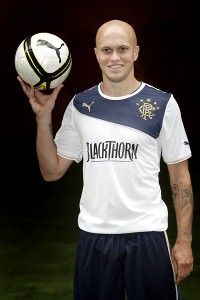 Press Association via AP ImagesNew Rangers signing Nicky Law displays one of the team's new uniforms at last week's kit launch.
In the journey back to the top, this coming season was always going to be the hardest one for Rangers fans.

Playing in the Third Division last season, the team had the goodwill of the supporters towards their club that survived oblivion.

The First Division will have Rangers playing more established teams, and the tantalising reward of a top league prize, so Ibrox will be full. It's the Second Division that was always going to be the most difficult to get motivated about.

Yet even now, Rangers supporters have already bought 28,000 season tickets, and look set to go well beyond the 30,000 once there is a public sale.

-Bocanegra leaves Rangers

When it's considered how bad some of the games were last season, it's a tremendous show of loyalty, and one that deserves repaid with good football. Already, new signing Nicky Law has made it clear that the Rangers manager Ally McCoist is expecting much more from this squad. As Law pointed out:

"From the first day of training the balls were out and there was an emphasis on getting it down and playing with a tempo. You can see that with the signings and there were a lot of good attacking players already here as well. So the emphasis is going to be on attack and we will be fit, strong and ready for the first game when it comes.

"It will be high pressing and we'll be working hard and harassing teams high up the pitch. That's how we are going to try and play and we will stick to that philosophy home or away."

This is a positive statement. It shows McCoist is aware of last season's shortcomings and is out to rectify them. This is an important few months for the Ibrox boss as any reversion to the long-ball game and dire football will see him under immense pressure -- even if he wins the league by 20 points.

Although he'll not publicly admit it, it's also a benefit to McCoist to see Carlos Bocanegra and Dorin Goian leave by mutual consent. Not because Rangers don't need half-decent central defenders -- it's still by far the weakest area of the team -- but with the high wages freed up it gives the club a saving of between one and two million pounds, and so gives the possibly of adding another few players into the squad.

The current centre-backs are Emilson Cribari, Ross Perry, Chris Hegarty, Luca Gasparotto and possibly Lee McCulloch. In my opinion, only McCullloch, the Rangers captain, will be guaranteed a start at the back. So it's no surprise that the Light Blues are supposedly looking very closely into capturing Scottish international Christophe Berra.

In normal circumstances he would not give a Second Division team a second look, but with some of the Bocanegra and Goian money now available, and with an unrivalled fanbase, it might even look likely. Few players, even now when Rangers are two leagues below the top, can turn down the lure of Scotland's biggest club. Lee Wallace, Dean Shiels, Ian Black, David Templeton, Nicky Law and Jon Daly are testament to that.

Whatever happens from now on, life looks to be that little bit more exciting now than before. At last, on the field -- where it should be.