Rangers have big squad, so what will the starting XI be?
With the new signings coming in, and the injuries from last season clearing up, who Ally McCoist will play in the starting eleven arrives is a question many Rangers fans are asking.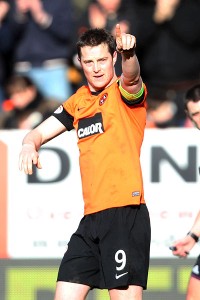 Press Association via AP ImagesJon Daly scored against Rangers in Dundee United's 3-0 Scottish Cup victory Feb. 2.
It's doubtful the manager knows exactly who will be in the first team just yet, since the full squad will probably change between now and the end of the transfer window. Being unable to play all the recent acquisitions until the transfer registration ban ends on Sept. 1 -- three weeks after the Second Division opener against Brechin Aug. 10 -- doesn't help, either.

But if we have a little fun and pretend it's a perfect situation and the current squad is final, while knowing that any team predicted now will almost certainly be wrong, here are the players I think McCoist would pick:

Formation

Last season the Gers were very rigid in their one up-front policy, but with the signings of Nicky Clark and Jon Daly, you would have to believe the team will play a version of 4-4-2.

Goalkeeper

Cammy Bell -- No surprises here. The new signing will start for Rangers when he is able to register with the SFA.

Defence

Richard Foster -- McCoist likes experience, and with his previous time at the club the Rangers manager knows Foster well. Some fans are unhappy with this signing, but Foster is the best right-back at the club. Andy Mitchell will hopefully run him close.

Lee McCulloch -- The club captain will not beat Daly, Clark or even Andy Little to a forward position, but he will not be left out the team, either. His strength, heading and ability to read the game will mean he will play at the back.

Emilson Cribari -- This is a player I have never been keen on, but McCoist seems to like him. It's quite possible a new centre-half will come in and take this place anyway, but with the criteria I am using here –- the Brazilian would probably be picked before Ross Perry and Chris Hegarty.

Steven Smith -- The signing of Smith had a similar reaction as Foster's. Some fans happy with it, some appalled. But, like Foster, McCoist knows Smith well and feels secure with his experience. I don't think he has been signed to cover the left-back area, I think he has signed to be the left-back.

Midfield

David Templeton -- One of the Light Blues' best players, and on his game a class act. He didn't perform as well as he should last season, and at times went through the motions (as most of the squad did), but it is still a real coup to have him in the Second Division. Here is what he can do when in the mood.

Lewis Macleod -- Lewis has been the one youngster who has become an automatic start. If he progresses the way he has recently then Rangers will sell him in the next few years for a healthy profit. His quiet efficiency hides how valuable he is to the Rangers team. It's only when he is missing that it's easy to see how everything revolves around him.

Nicky Law -- The new signing from Motherwell was one of the top SPL players last season and, like Templeton, it's fantastic to see him in a Rangers jersey at this level. Supporters will be hoping for more of this.

Lee Wallace – Here is the most controversial positional movement. I could be badly wrong, but I have a feeling, and heard some whispers, that McCoist might move Wallace from left-back to the midfield. It makes sense as the Gers vice-captain makes tremendous runs up the left and is often the team's most vibrant attacker.

Forwards

Nicky Clark -- Scoring 40 goals in 45 appearances for last season's Second Division champions, Queen of the South, shows that if anyone has the beating of the third-tier defences -- it is this man. There will be added pressure, and a difference in style from last season, but he won't be on the bench when eligible to play. He will start.

Jon Daly -- The Irishman is another good SPL standard player and he won't be going to Ibrox to make up the numbers. It's possible that he may help out in the defence if needed, but he has pointed out McCoist said he will be a striker. On paper the big target man looks like the perfect match with Clark. Some of his goals from last season here, here and here.