Would Rangers and the fans accept an SPL2 invite?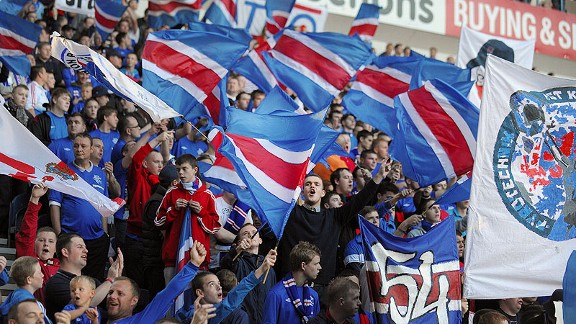 Mark Runnacles/Getty ImagesRangers fans might not want anything to do with the SPL, however a possible move to SPL2 could stand to benefit the club.
One of the more interesting rumours surrounding Rangers at the moment is the notion that if the proposed merger of the Scottish Premier League (SPL) and the Scottish Football League (SFL) fails, the SPL will create an 'SPL2' and invite the Ibrox club to join in time for next season.

In an unlikely alliance, the majority of Scottish football fans -- Rangers and non-Rangers alike -- agree that this is not the way forward. Yet while most supporters openly talk of fairness, they secretly harbour a desire to see other clubs suffer or fail.

Gers fans think that more time outside the SPL will hurt the Premier League and be a sort of revenge for the demotion to the Third Division. Supporters of SPL teams are enjoying the Glasgow giants being in the lower divisions, as it's human nature to enjoy watching the biggest and best struggle, if only for a while.

Neither need worry as there is little chance of an SPL2 in the first place, and even if it comes about the odds are against Rangers ever being invited. There is too much bad blood between the Light Blues and the SPL.

But, what if the unlikely became a fact? What would happen if Rangers were invited to an SPL2?

There is no doubt fans of the SPL clubs would go crazy and start their angry internet campaigns, but by then it would be too late. This reaction would be expected by the clubs if they made such a decision, and it would mean they were prepared to ignore the backlash.

For Rangers, it would be more complicated. The majority of supporters still want little to do with the SPL in its current guise. They would reject being under the influence of a body, which they feel tried to ruin their team and retrospectively take titles with no evidence of cheating.

If Rangers still felt threatened over any legal action and gained nothing from an SPL2, they would be correct to reject any invitation. But what if they were given the legal assurance of no more retrospective punishments? What if they were given full SPL rights, more TV money and the possibility of being one year closer to the top division -- would they accept it?

The answer is 'yes'.

This is where the fans would need to distinguish between how they want things to be, and what things are. If the SPL created a second division, they would still be there a year later. Not ten or five years later, just one. Only this time Rangers would join on the SPL's terms and be a year behind.

Any business strategist who failed to see the obvious flaw in rejecting an invitation which benefits the club, and is going to happen a year later anyway without those benefits, should not be on the board of a company with a multi-million pound turnover.

In effect, not accepting an SPL2 on your terms would be hurting your own club for the chance of damaging another. This is no different to the 'no to newco' fanatics of 2012 who said they would rather their own team suffered than see Rangers in the SPL. In both cases it's just football tribalism hiding behind 'sporting integrity'.

There is no doubt that fans should remember how they were treated by the SPL. But that shouldn't mean the club should hinder itself only to hinder others. What is best for Rangers is all that matters. If something helps the club then it should follow that path. If it doesn't help then don't walk that road.

Although an SPL2 is unlikely, there will still be future choices the Light Blues will have to make which mean more television and sponsorship going to Ibrox profits the SPL clubs too. They aren't going anywhere -- whatever they call themselves -- and it is wishful thinking to suppose otherwise.

As bitter as indirectly helping these clubs may be to the Gers support, it should be sweetened by the realisation that a successful Rangers is the last thing others want -- even if their own clubs gain. That is a self-defeating attitude and there is no need to copy it.

For the most passionate and biggest support in Scotland only one thing should matter -- Rangers first.