Rangers signings who failed to deliver
Since I have previously chosen my picks of those who did the most to win Rangers the Third Division trophy, it would be a cop-out to fail to discuss those who, in my opinion, also disappointed.

Of course, these are personal choices, and you may well disagree. If you do, then please leave your suggestions in the comments section at the bottom.

Dean Shiels

An exciting prospect at the beginning of the season, Shiels consistently failed to produce the type of performances expected when he signed. At times he showed his class, and why he could be one of Rangers' top stars. But he often seemed lost within the one up-front system that Ally McCoist favoured. Injured since March, Shiels will still be a bonus when he returns, but only if he can regularly perform. One decent game in four is not good enough for a Rangers player.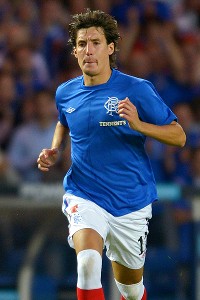 Mark Runnacles/Getty ImagesFran Sandaza's Rangers tenure ended after audio of an embarrassing phone call surfaced.
Fran Sandaza

It might be a touch unfair to add Sandaza since he was sacked for allegedly breaking his contract in a hoax phone call. Saying you will talk about a possible transfer to a fake agent, then have it recorded and put on the internet, is not the brightest move. But it was his lack of moves on the pitch that really ended his Gers career. If he was scoring, the club would have kept him, but his poor form made it easy for the club to dismiss him.

Like Shiels, he was played out of position because of McCoist's penchant for the solitary striker. He couldn't cope without a partner, and his confidence disappeared after each poor match. It wasn't helped when, in late 2012, he nearly lost an eye after a horrific cheekbone injury. Whether Rangers were right to let him go is irrelevant to the fact the club is better off without him.

Emilson Cribari

It's hard to believe the Brazilian currently playing in Scotland is the same player who played in Italy's Serie A with Lazio. Slow, weak in the tackle, and often poorly positioned, the tall centre-half has struggled against pace in the fourth tier. It's therefore no surprise that the Rangers defence wasn't even the best in Scotland's worst league. It would be a huge surprise if Cribari is still playing first-team football after the transfer registration ban ends on Sept. 1, when management can sign new players. But even without new signings, Cribari should not be at Ibrox.

Ian Black

Of all the Rangers players, Black was the biggest underachiever. A huge signing at the beginning of the season, much was expected of the former Hearts man, but he has looked uninterested and mostly seems to do just enough to get by. Not only has he been outplayed by Lewis Macleod in midfield for the Light Blues, but opposition players have also made him anonymous. He has often complained of some terrible tackles against him in SFL3, and he has a point. But his petulance and playing to the crowd instead of focusing on the game have been all too obvious. He can still be an asset but he needs to stop thinking he is a better player to those around him and actually show it.