No defending the Gers' defence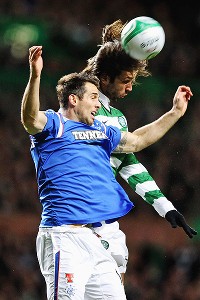 Jeff J Mitchell/Getty ImagesCarlos Bocanegra is welcome to return to Rangers, though it's unlikely they can afford him.
When Rangers started life in the Third Division on Aug. 11 at Peterhead, the back four consisted of Kirk Broadfoot, Carlos Bocanegra, Dorin Goian and Lee Wallace. Less than a month later and only Lee Wallace is playing against Elgin City at Ibrox. Alongside him is Anestis Argyriou, Ross Perry and Emilson Cribari.

The first lineup wasn't exactly perfect, but the later incarnation is a huge drop in class. It's therefore no wonder that this Rangers defence, and its combinations, wasn't even the best in the fourth tier of Scottish football. That accolade goes to Peterhead.

Should this mean Ally McCoist has to take criticism for this part of the team? It would be foolish to say he isn't in any way responsible, but there has to be a realisation that the departure of so many players in the summer, that of the three mentioned above was more than debilitating.

McCoist had two hands tied behind his back and had to make do with what he had and make panic buys. Could he have done better than Cribari, Argyrious and Faure? Probably, but he didn't have time to wait.

Now, with the transfer registration ban ending Sept. 1, the Rangers manager has only one hand tied behind his back. He will be looking for free transfers to bolster his squad, and obviously the defence.

There is also the 'bonus' of Goian and Bocanegra returning to the club after their loan spells abroad. Neither has burned bridges with the club, and 'Captain America' has continually expressed his love for the Rangers and a wish to return.

They may, however, have to be released on a 'golden handshake'. Their wages are extremely high and it's doubtful they would want a renegotiation to a lesser pay == and why should they? == so McCoist cannot rely on these two for the assault on the Second Division.

What about the current players? It seems that Neil Alexander will be leaving and Cammy Bell will be taking his place between the posts. In any case, it shouldn't be too difficult to find a decent goalkeeper for this level.

Obviously, Wallace, the Scottish Professional Football Association's Third Division Player of the Year, will be a regular in the back four, but so too will Lee McCulloch, the club's Player of the Year. Although the Gers captain can score, he will increasingly find he is best suited to centre-half rather than centre-forward.

For the rest, it would be surprising if the Brazilian Cribari was at the club much longer. He may have played in Serie A at his peak, but he struggled in SFL3 and if he stays on it will be a shock. Argyrious, Perry, Chris Hegarty and Sebastien Faure are also on borrowed time.

Their future at Ibrox solely depends on how many new players the Rangers management can bring in this summer. But even if they survive another year, it would take an incredible change in fortune to see them at Ibrox after 2014.

Whatever happens to the Rangers defence will be interesting, and although McCoist is still restricted on who he can sign, he now has little excuse for not producing the best back four in the Second Division, or even one of the best in Scotland.

The support will be expecting nothing less, and there will be no defence off the park if the defence on it is still poor.