Gers positives and negatives so far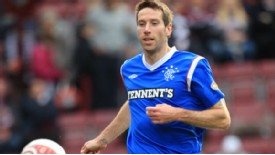 PA PhotosKirk Broadfoot: Left Rangers for Blackpool
It would be ridiculous to make any definitive statements about Rangers with so little of the season played, but with the international weekend giving us all a breather, it might be interesting to look at the positives and negatives of the new SFL experience.

Negatives

Central defence -

With Carlos Bocanegra moving to Racing Santander in the Spanish Segunda Division - assuming it is completed as the Daily Record have reported the deal might fall through next week due to an administrative error - and Dorin Goian signing for Serie B side Spezia Calcio, both on a one year loan, Rangers have been left weak at centre-half.

Even the departure of Kirk Broadfoot to Blackpool didn't help as he too can play there.

Rangers still have Ross Perry and Lee McCulloch who can play there and Brazilian Emilson Cribari, Frenchmen Sebastien Faure and Greek Anestis Argyriou have all been brought in as replacements.

However it's fair to say that although Emilson has Serie A experience, he has been poor so far and the latter two are unknown quantities.

If there is one position that will cost Rangers a game it will be here, so expect the new club captain Lee McCulloch to become Rangers' anchor at the back very soon.

Long ball game -

One of the most disappointing aspects of Rangers in the SFL has been the quality of football and the lack of any fluent passing in many games.

This might not be the best team in Rangers' history, but more was expected than long diagonal balls to the forward line.

In some matches the opposition part-timers have played with better control, movement and pace, while Rangers have been very static and struggled to keep possession.

Maybe McCoist felt it would be more effective or maybe the lack of pre-season and a new group of players contributed to poor football. Nevertheless being out-played in Division 3 is embarrassing.

Thankfully, in the last two matches against Falkirk and Elgin City, Rangers have played some tremendous passing football. Hopefully the long-ball game was just a blip.

Poor league away form -

Okay let's not get too dramatic. A 2-2 draw away to Peterhead and then a 1-1 draw at Berwick Rangers is not the end of the world in league terms, but it would be silly not to point out that both games could easily have been defeats.

The rubbish football was bad enough, but more important was the lazy attitude from the players.

As Ian Black later admitted after the Berwick debacle, "We've just expected to turn up and win and we know that's not the case, but I think everyone today thought that."

The next league game away from home is against Annan Athletic and a clear victory is required.

Small squad -

Rangers have lost so many players since January 2012 that it is hard to remember exactly how many, so it was a huge task for McCoist to bring in enough replacements.

As discussed earlier the defence is weak, and a few injuries to key players could see Rangers form drop significantly.

There should have been a few 'journeymen' signings from the lower SPL or Division 1 teams, just to ensure that in the worst case scenario, Rangers had enough solid players to fill any gaps.

Positives

Quality signings -

Although the squad is smaller then prudent, the the plus side is that some of those signed have great quality.

It's astonishing that top players like Fran Sandaza, Ian Black, Dean Shiels and David Templeton have left the SPL to join Division 3.

If and when they eventually gel, they will demolish a few SFL 3 teams. Expect an occasional 8-0 victory, with double figures possible.

Uniquely passionate fans -

The Rangers Football Club are in Division 3 for the first time ever, and it has prompted some non-Rangers fans to assume the Gers support would walk away.

With 36,000 season tickets sold and league crowds of 46,000 and 49,000 (Scotland's highest each time), it shows the fans are going no-where.

There are few clubs anywhere with such loyalty and it bodes well for the future.

Fortress Ibrox -

With such big crowds, and the noise it generates, opposition teams were alway going to find it hard at Ibrox - and they have.

In the SFL at least, there is a feeling that Rangers just can't lose at home. It's possible the fans might not see a defeat at Ibrox this season.

The biggest test will be against SPL clubs in a Cup, and with Rangers facing Motherwell down Govan way in the League Cup very soon, we'll see what the fortress is really made of.

This is fun -

As discussed in the last blog post, the fun is back for the fans. With a galvanised support delighted just to see their football team after coming so close to losing it, there is a happy atmosphere surrounding Rangers.

With Bob Marley's 'Three Little Birds' being a new club anthem, Ibrox Stadium now shakes to a support singing 'don't worry, about a thing, coz every little thing's gonna be alright'.

And you know what? It is!