Superb Rangers fans lead the way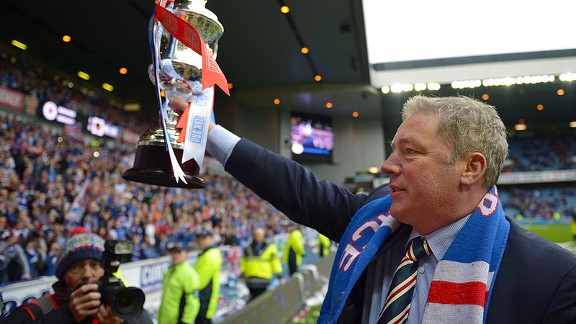 Jeff J Mitchell/Getty ImagesAlly McCoist hoists a Third Division trophy that truly belongs to the Rangers' support as much as it does the club's players.
Like most of this season. the result on the park for Rangers meant less than the 'event' itself. A 1-0 victory over Berwick Rangers Saturday was overshadowed by the UK's biggest crowd of the day as 50,048 watched their team lift the Third Division trophy.

When some pundits said Rangers being demoted to the bottom tier would mean fans would melt away, they were shocked when an average of 45,000 turned up for every home game. But the pundits persisted in being negative and more than a few settled on calling it 'defiance' and saying it will only a few months.

So it was fitting that a support who have suffered so much the last few years set a world record in attendance for a fourth-tier league match in the final game of the season. The club and the fans are going nowhere except upwards and onwards.

That's not to say it will be easy even with Scotland's biggest and most passionate support. Without being too harsh on the Rangers squad, after an end of season game -- it was still hard to watch -- and some of the players at Ibrox need to be replaced. There was little tempo, urgency or class on show.

This doesn't mean the Light Blues should go crazy with new signings for the assault on the Second Division, but they do need freshening up in key areas and skills.

One of the improvements needed is bringing in players with pace. This is also down to the way Rangers manager Ally McCoist has the team set up, but they definitely need some raw speed.

Another area is leadership. Too often this season players looked lost when the going got tough. Although born leaders are a rare resource, it's something McCoist has to think about.

On the positive side, Rangers do have some good youngsters, and if the club is lucky and handles them well, the fans could be watching one or two as first-team regulars playing for Rangers in the top division.

If there is one who you could put your mortgage on being there, it is Lewis Macleod. It was great to see him back after being out injured from January, and it says a lot that he won the 'Young Player of the Year' even after missing so much of the season.

He made some loose passes on Saturday, but that was to be expected from his long absence. His moments of creativity showed why he has been so badly missed and why management thinks so highly of him.

Overall though, the job is done. The Third Division title has been won, and the club still survives thanks to the fans. As McCoist said, "We have won the league and I think it's all about the supporters today. They deserve unbelievable thanks and praise from everyone within our football club. I said it out on the park and I genuinely meant it that if it wasn't for them there wouldn't be a Rangers Football Club. They've been truly wonderful."

He also added, "We will never ever go away, that is for sure. And with your support along the way, we will get back to where we belong."

For all the imperfections of the season, at least it was a season. Stage one of the journey is complete, and everyone knows that sooner or later, the Rangers will be champions of Scotland once again. That day will be dreaded by some, and lauded by others. But it will happen.

And the fans will lead the way.