Gers fans to fill Ibrox for title-party weekend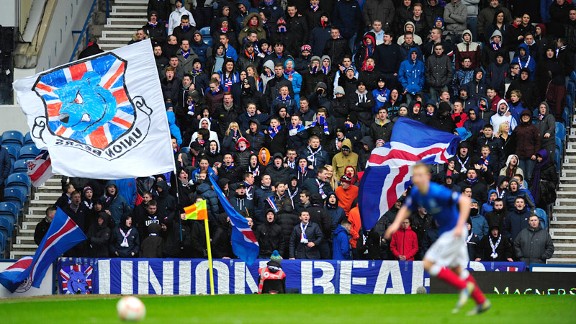 Stu Forster/Getty ImagesRangers fans will be at their festive best at Ibrox when they host Berwick on Saturday.
It's fitting that there will be a complete sell-out for the last game of the season against the 'wee Rangers' at Ibrox on Saturday. Even just for the symbolism of the Rangers still being alive and kicking, it would have been disappointing if the Third Division trophy was lifted in front of anything less than 50,000 fans.

- Green fined by SFA

Yet it's also a testament to the Light Blues fans that they can turn up in such amazing numbers for a fourth-tier football match when previous games have been so poor. While Scottish Premier League (SPL) clubs tried for a 'Sell-out Saturday' this season, they could barely fill a single stand, and some are already discussing what parts of their stadium they should close for next year.

The Gers fans know that Saturday is a celebration of their very existence as much as any silverware. There are few supports anywhere who have been treated as badly by their owners and football authorities, yet still remain as loyal to their football team. All clubs have 'die-hard' fans, but there is no other Scottish club that can beat the numbers who go to Govan.

Hopefully the players and management will realise this and give them expansive and high-tempo football. Too often this season the team has looked mechanical and slow, when they should be expressing themselves.

Of course it hasn't been helped by a make-shift squad and seemingly endless injuries, and Saturday is no different. Lee Wallace seems to be struggling, while Emilson Cribari and Chris Hegarty are definitely out.

On the positive side, Andy Mitchell and Luca Gasparotto will come into the team, and it will be great to see two young starlets being given the chance to play in front of a huge crowd.

Another youngster who might be seen at some point is Lewis Macleod. He has been out with a knee injury since late January and has been working his way back to fitness ever since.

Strangely though, Ally McCoist more than hinted in the press conference that the medical team do not want to see Macleod play any part in the game. It's hard to decide how serious McCoist was being, but surely he wouldn't play him if there was any risk of it aggravating the injury? He's too precious for that.

As the Rangers manager said, "If the fans want to see anybody out on that park tomorrow it would be Lewis. He got our Young Player of the Year award because he's a real player. You see that again with him coming back in to training over the last 10 days. The biggest compliment I can pay Lewis at this time is that we've missed him. He's an 18-year-old who wasn't in our team at the start of pre-season but we've missed him."

But as much as there is talk of no pressure football and celebrating titles, this game means a lot to the opposition and won't be easy. With a three point advantage and a plus eight goal difference, the English side need to keep the score down, and hope Elgin City don't run up a high score to ensure they get in the playoffs. Berwick will be fighting and scrapping for everything and Rangers should be prepared.

But they will -- and the atmosphere and team talk from the manager should ensure it's a day to enjoy for the home side. Although this season has taught us all that predictions are foolish with this team as they are so unpredictable, I'll do just that.

The Rangers will win by at least five goals and there is a big chance Elgin City will snatch that playoff place. Enjoy your football!